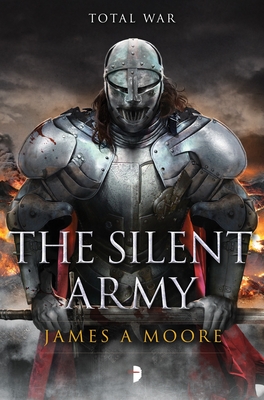 The Silent Army (Seven Forges #4) (Mass Market)
Angry Robot, 9780857665751, 400pp.
Publication Date: May 3, 2016
Other Editions of This Title:
MP3 CD (1/31/2017)
Mass Market Paperbound (5/3/2016)
* Individual store prices may vary.
Description
The City of Wonders has been saved by nearly miraculous forces and the Silent Army is risen, ready to defend the Fellein Empire and Empress Nachia at any cost. The power that was hidden in the Mounds is on the move, seeking a final confrontation with the very entities that kept it locked away since the Cataclysm. Andover Lashk has finally come to accept his destiny and prepares to journey back to Fellein. The Sa'ba Taalor continue their domination over each country and people they encounter, but the final conflict is coming: The Great Wave of the Sa'ba Taalor stands to destroy an empire and the Silent Army prepares to stop them in their tracks.

Caught in the middle is the Fellein Empire and the people who have gathered together on the final battlefield. The faithful and the godless, the soldiers and killers alike all stand or fall as old gods and new bring their war to a world-changing end. Some struggles are eternal. Some conflicts never cease. The Gods of War are here and they are determined to win.

File Under: Fantasy [ The End of Days | Power of the Gods | Personal Victories | The Tides of War ]
About the Author
James A Moore is the author of over twenty novels, including the critically acclaimed Fireworks, Under The Overtree, Blood Red, Deeper, the Serenity Falls trilogy (featuring his recurring anti-hero, Jonathan Crowley) and his most recent novelsAlien, Sea of Sorrows as well as Seven Forges series: Seven Forges, The Blasted Lands, City of Wonders, and the forthcoming sequel The Silent Army.

He has twice been nominated for the Bram Stoker Award and spent three years as an officer in the Horror Writers Association, first as Secretary and later as Vice President.

James cut his teeth in the industry writing for Marvel Comics and authoring over twenty role-playing supplements for White Wolf Games, including Berlin by Night, Land of 1,000,000 Dreams and The Get of Fenris tribe. He also penned the White Wolf novels Vampire: House of Secrets andWerewolf: Hellstorm.

Moore's first short story collection, Slices, sold out before ever seeing print.

He lives in Massachusetts, US. Meet him on his blog and @jamesamoore on Twitter.
Praise For The Silent Army (Seven Forges #4)…
"James A. Moore keeps getting better. The cast of characters expands.  Moore juggles them with ease, giving each one some background so that they don't all run together. And the battle scenes, whether it's individual combat or armies clashing, are riveting.  Plus the intrigue keeps on getting more complex. This is one is highly recommended."
– Adventures Fantastic

"The prose is sharp, the pace wonderfully timed with great action tempered with some wonderful lulls to allow you to get your breath back. Back this up with some great characters alongside a world that is delightfully designed all round makes this a series that continues to go from strength to strength. Finally, and this is the clincher for me, Moore gives the characters a depth with their dialogue that not only shows their devotions but also gives them a roundedness that allows you to become fully immersed. Cracking."
– Falcata Times

"The Silent Army is a book that improves on every facet that made its predecessors great. This feels like a satisfying conclusion to the first arc of a much bigger story, because this book ends a bunch of plot threads that began right back at the start of the first book, but it leaves some big threads wide open begging for more. I need more stories set in this world. Please indulge me, Mr Moore."
– Fantasy Book Review

"A strong instalment with no shortage of action."
– The Speculative Herald

"I love this series, I will not lie about it. It has ALL the things that make a great fantasy read. Mr. Moore steadily ups his game with each new installment. I call this 'dark' fantasy, it does have epic leanings, great characters, great action and an awesome world, that pretty much wins me everytime. I won't gush much more, but if you like the fantasies and you like sword swinging and heads flying through the air like so much dust in the wind, give James A. Moore all your money!"
– Shelf Inflicted

"With The Silent Army, Mr. Moore has given us Epic: a world spanning conflict, a struggle to decide the fate of an entire civilization.  And I for one loved every "epic" event which the author threw my way.  Scene after scene of it.  Every titanic clash, every awe-inspiring magical event, every god-like creature, every dramatic revelation, every horrid deed, all of them building into a sword and sorcery feast not to be missed.  The Sa'ba Taalor rising to the forefront of most epic race in sword and sorcery literature."
– Bookwraiths

"The final installment of a great epic story has drawn to a close and it ended with a huge bang. From the very first page down to the last, James A. Moore does not pull the punches in delivering an action-filled story that's full of savagery and pumps adrenaline page after page after page. Thank you James A. Moore for such a wonderful and magical journey."
– Zirev

"On a Goodreads scale I give it five stars (if I could give it ten, I would. Or eleventy-million – either or.)"
– Amanda J Spedding
or
Not Currently Available for Direct Purchase