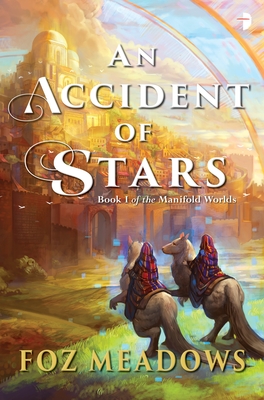 An Accident of Stars
Book I in The Manifold Worlds Series
Mass Market

* Individual store prices may vary.
Other Editions of This Title:
Paperback (6/28/2022)
Description
Portal fantasy grows up in this immersive series kickoff featuring "a life-changing adventure, . . . compelling characters and a fascinating world" (Martha Wells, author of The Murderbot Diaries)

When Saffron Coulter stumbles through a hole in reality, she finds herself trapped in Kena—a magical realm on the brink of civil war. It's there that her fate becomes intertwined with that of three very different women: Zech, the fast-thinking acolyte of a cunning, powerful exile; Viya, the spoiled, runaway consort of the empire-building ruler, Vex Leoden; and Gwen, an Earth-born worldwalker whose greatest regret is putting Leoden on the throne. But Leoden has allies, too, and chief among them is the Vex'Mara Kadeja, a dangerous ex-priestess who shares his dreams of conquest.

Pursued by Leoden and aided by the Shavaktiin—a secretive order of storytellers and mystics—the rebels flee to Veksh, a neighboring matriarchy ruled by the fearsome Council of Queens. Saffron is out of her world and out of her depth, but the further she travels, the more she finds herself bound to her friends with ties of blood and magic. Can one girl—and an accidental worldwalker at that—really be the key to saving Kena? Or will she die trying?
Praise For An Accident of Stars: Book I in The Manifold Worlds Series…
"This is the portal fantasy I've spent my whole life waiting for."
—Liz Bourke for Tor.com

"So this was basically all the things I'd enjoyed about portal fantasies as a younger reader, with the dubious gifts the suck fairy might have bestowed either questioned or removed."
—Ann Leckie

"I very much enjoyed this. The main character falls out of our world into a life-changing adventure, with compelling characters and a fascinating world.  I can't wait to read the next book."
—Martha Wells, author of The Books of Raksura and The Murderbot Diaries

"An Accident of Stars' interwoven, beautifully rendered cultures are filled with rich details, complex family bonds of all kinds, and deeply layered politics. To enter Kena and the surrounding lands is to be irrevocably and powerfully changed. Foz Meadows has created an epic adventure unlike any I've read before."
—Fran Wilde, Nebula- and Norton-nominated author of Updraft and Cloudbound
"A portal fantasy for grownups, with grit and realism, and characters I loved from the first page."
—Trudi Canavan, author of the Black Magician trilogy
"Fantasy readers who appreciate strong characters and excellent worldbuilding will immerse themselves in this tale."
—Publishers Weekly, starred review
"It's quite lovely... The main strength of this is its cast, which walks off the page – there's characters of all ages, all walks of life and all sexual orientations–and its gut punch ending."
—Aliette de Bodard, , Nebula Award-winning author of The House of Shattered Wings
"Reminiscent of Ursula K LeGuin, An Accident of Stars will take you to a lush, magical new world."
—Laura Lam, bestselling author
"An Accident of Stars is anchored in dozens of complex women, driven by the rooted, deep relationships they have with each other. It's a wonderful, rich, feminist book, and I loved it."
—B R Sanders, author of Ariah
"This fabulous story bowled me over with a compelling blend of intimacy, danger, twisty politics, believably imperfect characters, and a fascinatingly complex universe."
—Kate Elliott, author of Black Wolves and Cold Magic
"Richly imaginative world building with delightfully complex and diverse characters; a joy to read!"
—Ann Lemay, videogame writer
"The sophistication, thematic ambition and range of viewpoint characters make this a mature work of fantasy."
—BFSA
Angry Robot, 9780857665850, 496pp.
Publication Date: August 2, 2016
About the Author
Foz Meadows is an Australian genderqueer author, blogger, essayist, reviewer, and poet. She has written four novels, including An Accident of Stars, as well as numerous short stories and novellas. She is also a contributing writer for The Huffington Post and Black Gate, and a contributing reviewer for Strange Horizons and Tor.com. In 2014, she was nominated for a Hugo Award for Best Fan Writer for her blog, Shattersnipe.
or
Not Currently Available for Direct Purchase