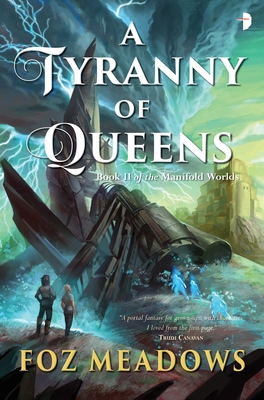 A Tyranny of Queens (Manifold Worlds #2)
Mass Market

* Individual store prices may vary.
Description
Embark on another "nerve-biting and explosive" adventure between worlds in this refreshingly intersectional portal fantasy for adult readers (Tor.com)
 
Saffron Coulter has returned from the fantasy kingdom of Kena. Threatened with a stay in psychiatric care, Saffron has to make a choice: to forget about Kena and fit back into the life she's outgrown—or pit herself against everything she's ever known and everyone she loves.

Meanwhile, in Kena, Gwen is increasingly troubled by the absence of Leoden—the cruel ruler of the kingdom—and his plans for the captive worldwalkers. Elsewhere, Yena must confront the deposed Kadeja in Veksh. What is their endgame? Who can they trust? And what will happen when Leoden returns?
Praise For A Tyranny of Queens (Manifold Worlds #2)…
"A superlative portal fantasy with a memorable cast, an inventive setting and magic system, and a plot that always goes for the unexpected. Sheer delight."
—Aliette de Bodard, Nebula Award-winning author of The House of Shattered Wings
"Foz Meadows knows how to write a great fight, tension, and solitary pain like no one else. Meadows' warriors of choice in this sequel to An Accident of Stars are young women who battle in multiple worlds against betrayal on one side and bullying on the other. A Tyranny of Queens is resonant and resounding. An excellent and worthy sequel."
—Fran Wilde, award-winning author of Updraft, Cloudbound, and Horizon
"A Tyranny of Queens has stronger pacing than An Accident of Stars, and plays the developing strands of its narrative off against each other in ways that heighten tension and highlight the differences – and the similarities – between the characters' concerns. The characterisation is fantastic. The conclusion is nerve-biting and explosive – and has dragons... I really really love it"
—Liz Bourke for Tor.com

"Reading A Tyranny of Queens is like riding a roller coaster while never leaving the comfort of your home. I can't recall the last book that gave me the same feels, and it is all thanks to Meadow's nuanced, richly-developed characters. I found myself both crying and laughing out loud at various moments, my connection to the story so strong because of the depth of the characters, and the richnesses of the world they inhabit . . . I really loved this book. It is more than a simple portal fantasy, it is a masterful touchstone by which I will compare future books in the subgenre."
—Shana DuBois for the B&N Sci-Fi & Fantasy Blog
"As well as a fully diverse cast of characters, there's beautiful examples of love in all stripes – including royal polyamory. Saffron is an imminently relateable character both for her teenage experience as well as her honest shock at being dumped into strange new worlds. Wonderful series, and one I'll definitely be following."
—Pop Culture Beast
"An amazing, five-star continuation of the story started in An Accident of Stars."
—Fangirl Nation
"The world building of this series remains awesome. It starts to get into the multiple worlds aspect more, and it couldn't be better! There's just a hint of science fiction to it that makes for a really great genre combination."
—The Illustrated Page
"This is a worthy successor, a clever and innovative piece."
—Sci-Fi and Fantasy Reviews
"I adore this book, I loved every minute of reading it. I bought it when I found it on Saturday, and would have finished it faster if it weren't for work in the way of doing so. If you like books that have: worldwalking, dragons, polyamory, queerness, trans characters who are people, horrible people who have motivations that you can see, heart wrenching moments, happy gays, female-led societies, aliens, and so many more, or just want a great book, read An Accident of Stars which is the first book, and then read A Tyranny of Queens."
—On the Hunt for Books
"The world-building is epic, the politics are intricate and layered with meaning and consequences . . . I can't say enough good things about it, one of my favourite books of 2017."
—The Conversationalist
"A brilliant and moving work of high fantasy from the marvelous author Foz Meadows."
—The Seattle Review of Books
Praise and Reviews for An Accident of Stars:
"A portal fantasy for grownups, with grit and realism, and characters I loved from the first page."
—Trudi Canavan, author of the Black Magician trilogy
"Fantasy readers who appreciate strong characters and excellent worldbuilding will immerse themselves in this tale."
—Publishers Weekly, starred review

"This is the portal fantasy I've spent my whole life waiting for."
—Liz Bourke for Tor.com

"So this was basically all the things I'd enjoyed about portal fantasies as a younger reader, with the dubious gifts the suck fairy might have bestowed either questioned or removed."
—Ann Leckie

"I very much enjoyed this.  The main character falls out of our world into a life-changing adventure, with compelling characters and a fascinating world.  I can't wait to read the next book."
—Martha Wells, author of The Books of Raksura and The Murderbot Diaries
"Reminiscent of Ursula K. LeGuin, An Accident of Stars will take you to a lush, magical new world."
—Laura Lam, bestselling author
"An Accident of Stars is anchored in dozens of complex women, driven by the rooted, deep relationships they have with each other. It's a wonderful, rich, feminist book, and I loved it."
—B. R. Sanders, author of Ariah
"This fabulous story bowled me over with a compelling blend of intimacy, danger, twisty politics, believably imperfect characters, and a fascinatingly complex universe."
– Kate Elliott, author of Black Wolves and Cold Magic
"Richly imaginative world building with delightfully complex and diverse characters; a joy to read!"
—Ann Lemay, videogame writer
Angry Robot, 9780857665881, 448pp.
Publication Date: May 2, 2017
About the Author
Foz Meadows is a genderqueer author, blogger, essayist, reviewer and poet. In 2014, she was nominated for a Hugo Award for Best Fan Writer for her blog, Shattersnipe. She is a contributing writer for The Huffington Post and Black Gate, and a contributing reviewer for Strange Horizons and Tor.com.


fozmeadows.wordpress.com
twitter.com/fozmeadows

 
Author hometown: Adelaide, Australia
or
Not Currently Available for Direct Purchase