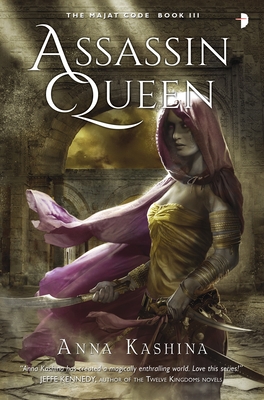 Assassin Queen (Mass Market)
Book III of the Majat Code (Code of the Majat)
Angry Robot, 9780857666062, 528pp.
Publication Date: June 7, 2016
* Individual store prices may vary.
Description
Defeated by the Majat forces, Nimos and the other Kaddim Brothers retreat to their secret fortress in the southern mountains. Nimos knows that the Majat's victory is only temporary: during the flight, he managed to place a mark on Kara, one of the top-ranked Diamond Majat. His mind magic would now allow him to use this mark to confer her fighting skill to the Kaddim warriors and turn her loyalties to their side.

The new Majat Guildmaster, Mai, is planning a march against the Kaddim. His key ally, Prince Kyth Dorn, is instrumental in these plans: Kyth's magic gift can protect the Majat against the Kaddim mind control powers. But Mai and Kyth are having trouble getting over their rivalry for Kara's affections – even after they realize that this rivalry is the least of their worries, at least for the moment. Something about Kara is not right…

File Under: Fantasy [ Showdown! | Lost Princess | Shuffling the Ranks | Love (Really) Hurts ]
About the Author
Anna Kashina grew up in Russia and moved to the United States in 1994 after receiving her Ph.D. in cell biology from the Russian Academy of Sciences. She works as a professor in a major university and combines her successful career in science and her passion for writing.
Praise For Assassin Queen: Book III of the Majat Code (Code of the Majat)…
"Assassin Queen, the third book of Anna Kashina's Majat trilogy continues to thrill and titillate with its heady blend of fantasy romance and battle arts. It isn't about love – but it is! But it isn't! But sometimes swordplay is foreplay, a kiss can be a debilitating blow, and the battle of the sexes spills onto the battlefield. The trilogy's heroes Kara and Mai, the elite assassins madly in love, are simply irresistible!"
 - J. M. Sidorova, author of The Age of Ice
 
"Epic fantasy readers will love this action-packed adventure of elite warriors and romance!"
 - Amy Raby, author of the Hearts and Thrones series
 
"Anna Kashina has created a magically enthralling world of extraordinary warriors – female ones, too! – bound by extreme codes of honor, scholars dedicated to preserving ancient mysteries, and crew of stalwart heroines and heroes. Set against a sweeping political backdrop of warring kingdoms and religious faiths, the books of The Majat Code hit that sweet spot of excellent world-building for fantasy readers and a poignant romance payoff in the end. Love this series!"
– Jeffe Kennedy, author of The Twelve Kingdoms trilogy
 
"This book was the most unique reading experience I have ever had in decades of reading. A great way to end the series."
– In Pursuit of My Own Library
 
"What an incredible final book to the Majat Code series! Heart-pounding suspense and so many twists and turns."
– Two Ends of the Pen
 
"Assassin Queen was a terrific conclusion to an epic trilogy."
– Bookpushers
 
"There is a lot of action, tension and danger in the book. It all weaves into a wonderful ending for everyone."
– Mixed Book Bag