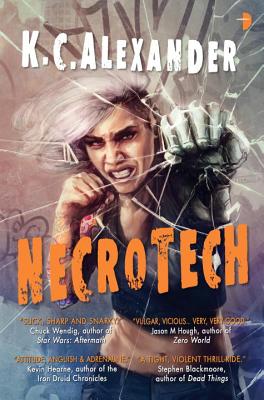 Necrotech (SINless #1)
Mass Market

* Individual store prices may vary.
Description
Street thug Riko has some serious issues—memories wiped, reputation tanked, girlfriend turned into a tech-fueled zombie. And the only people who can help are the mercenaries who think she screwed them over.

In an apathetic society devoid of ethics or regulation, where fusing tech and flesh can mean a killing edge or a killer conversion, a massive conspiracy is unfolding that will alter the course of the human condition forever. With corporate meatheads on her ass and a necro-tech blight between her and salvation, Riko is going to have to fight meaner, work smarter, and push harder than she's ever had to. And that's just to make it through the day.

File Under: Science Fiction  [ Viral Hitman | Renegade | Nano Shock | Swear On Your Life ]
Praise For Necrotech (SINless #1)…
"Necrotech bleeds with raw & unapologetic badassery. Riko is the cyberpunk heroine I've been waiting for, struggling with the truth that the tech we embrace to solve our problems just creates new ones, and no one has a chipset to fix humanity's bugs. K.C. Alexander dials up the  attitude, anguish, and adrenaline in this explosive debut, and I'm looking forward to Riko's next run."
 - Kevin Hearne, NYT Bestselling author of The Iron Druid Chronicles
 
"Necrotech is a tight, violent thrill ride in a fascinating cyberpunk world with one of the most interesting women protagonists I've read in a long time."
 - Stephen Blackmoore, author of the award-nominated noir urban fantasy Dead Things
 
"Sci-fi that's slick, sharp and snarky — K C Alexander doesn't 'write' so much as she fires words into your cerebral cortex with an electromagnetic railgun."
 - Chuck Wendig, NYT Bestselling author of Star Wars: Aftermath and Invasive
 
"Necrotech is a high-octane cyberpunk thrill ride that starts at full throttle and never slows down. Riko is an amazing, diverse, ass-kicking character that will leave readers wanting more."
 - Tim Moore, Strange Horizons
 
"Vulgar, vicious, and very very good! Alexander pulls no punches in this intense debut."
 - Jason M. Hough, NYT Bestselling author of Zero World
 
"Scalding and brutal as a radiation shower, punishing as a street fight, and as sharp as a blade to the jugular, Necrotech and its badass heroine, Riko, will grab your heart in a diamond steel fist and squeeze it to a pulp."
 - Lila Bowen, RT Review Award-winning author of Wake of Vultures
 
"What I like so much about Necrotech is that Riko's arm isn't perfect. Much like my prosthetic or a wheelchair, it's an end to a means. Which is what I'm ALWAYS MISSING from transhumanism."
 - Elsa Sjunneson-Henry, author of "Seeking Truth" in Upside Down: Inverted Tropes in Storytelling
 
"Necrotech is a speed freak rush down mean streets of the digital, the modified, and the just plain crazy. It's like razors for your brain."
 - Richard Kadrey, author of the Sandman Slim series
 
"I happily give this book 5 hoots and am already chomping at the bit to get the next one!"
 - Purple Owl Reviews
 
"If you want a fuckingly good time, then Necrotech's your book!"
 - Matt's Cyberplace
 
"You need this damn book."
 - Silicon of the Internet
 
"I love Riko!"
 - Vampire Book Club
 
"Hard hitting and fun, it reads like a sci-fi action film."
 - Pop Culture Beast
 
"Mixing together high-tech imagination and conspiracy, this one is sure to satisfy the cyberpunk craving you didn't know you had."
 - Kirkus
 
"So this is not my usual kind of review. And that's totally fine by me, because this is not my usual kind of book. It is so much fucking better than 'usual'. There's no lily to gild here. Necrotechis awesome. Go and buy it."
 - Over The Effing Rainbow
 
"Riko's story will snag you harder than a grappling hook attached to a fighter jet."
 - Sparring with Fiction
 
"Re-defining the scope and boundaries of cyberpunk science-fiction thrillers… K C's writing is like a solid right-and-left-hook combo that leaves you breathless. Pacy as hell, an engrossing mystery brewing beneath all that blood, gore and curses flying all around that kept me hooked to the end. "
 - Fantasy Smorgasbord
 
"This is one of the fastest-paced books I've read, which packs punches both physical and emotional. You need this damn book."
 - Write Code Do Science
 
"A colossal book that supersedes generic fiction labels."
 - Sparring With Fiction
 
"A kick-ass cyber punk novel and amazing female lead characters."
 - Glitter & Gorgons

"Necrotech is fast, violent, profane, and utterly enjoyable."
– Lauren's Bookshelf

"This book is a kick-ass thriller and Riko is a smart-mouthed, independent fighter who, despite her outward demeanor, loves human contact (sex) – male, female, it doesn't matter."
– Looking for a Good Book

"Pulse-poundingly action filled, with an approach to combat scenes which works brilliantly, putting one really into the fight the way the better class of video game does, making you feel not only the punches thrown but also the blows taken."
– Intellectus Speculativus

"Alexander does for sci-fi, what James A Moore does for fantasy: create a world so brutal you keep expecting it to crush its own characters. Fortunately, the characters in Necrotech don't crush easily. A few pages in, and you'll find yourself rooting for a street warrior whose vocabulary is as brutal as her fighting skills."
– Cowering King

Angry Robot, 9780857666246, 416pp.
Publication Date: September 6, 2016
About the Author
KC Alexander is the author of Necrotech – a transhumanist sci-fi called "a speed freak rush" by NYT bestseller Richard Kadrey and "a violent thrillride" by award-nominated Stephen Blackmoore. She co-wrote Mass Effect: Andromeda: Nexus Uprising with NYT bestseller Jason M Hough, Bioware's first novelization for Mass Effect: Andromeda. Other credits consist of short stories to Fireside magazine and a contribution to Geeky Giving. Specialties include voice-driven prose, imperfect characters, and reckless profanity. Also, creative ways to murder the deserving – in fiction. Probably. 

She champions mental health awareness and prefers animals to people. And she writes anything she wants to.
or
Not Currently Available for Direct Purchase