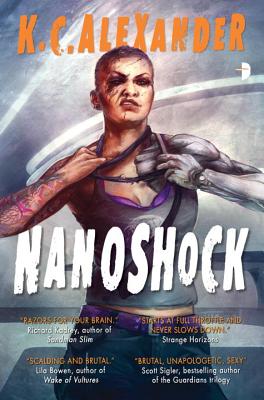 Nanoshock (SINless #2)
Mass Market

* Individual store prices may vary.
Other Editions of This Title:
Digital Audiobook (9/17/2018)
Description
Cyberpunk fallen angel Riko is back, in KC Alexander's outrageous sequel to the savage Necrotech.

Being a mercenary isn't all it's cracked up to be. Especially when Riko's hard-won reputation has taken a hard dive into fucked. Now she's fair game for every Tom, Dick and Blow looking to score some cred.
 
In this city, credibility means everything – there's no room for excuses. She still doesn't know what she did to screw up so badly, and chasing every gone-cold lead is only making it worse. Without help and losing ground fast, Riko has a choice: break every rule of the street on her search for answers…  or die trying.

File Under: Science Fiction [ Profane & Proud | Pound the Streets | Fist of Steel | Necro Tech ]
Praise For Nanoshock (SINless #2)…
"Nanoshock crushes everything in its path. Brutal, unapologetic, sexy cyberpunk, it is a steel-fisted punch in the mouth."
– Scott Sigler, #1 NYT bestselling author of the Generations trilogy
"An intense, gleefully profane, fearlessly inventive, unapologetically grimy cyberpunk caper with an unforgettable protagonist."
– Barnes & Noble Sci-Fi & Fantasy Blog
"What a ride! I mean, I'm a die-hard fan of anything cyberpunk, but this one takes things to a whole new level of pacing, action, great story, great characters, and above all, a rip-roaring fun time."
– Brad K Horner
"This book was an exceptional follow up to the first one and I couldn't be more pleased with it."
– Purple Owl Reviews
"This book was an exceptional follow up to the first one and I couldn't be more pleased with it." Five Hoots!
– Purple Owl Reviews
Praise for 
Necrotech
"Necrotech bleeds with raw & unapologetic badassery. Riko is the cyberpunk heroine I've been waiting for, struggling with the truth that the tech we embrace to solve our problems just creates new ones, and no one has a chipset to fix humanity's bugs. K.C. Alexander dials up the attitude, anguish, and adrenaline in this explosive debut, and I'm looking forward to Riko's next run."
– Kevin Hearne, NYT Bestselling author of The Iron Druid Chronicles
"Necrotech is a tight, violent thrill ride in a fascinating cyberpunk world with one of the most interesting women protagonists I've read in a long time."
– Stephen Blackmoore, author of the award-nominated noir urban fantasy Dead Things
"Sci-fi that's slick, sharp and snarky — K C Alexander doesn't 'write' so much as she fires words into your cerebral cortex with an electromagnetic railgun."
– Chuck Wendig, NYT Bestselling author of Star Wars: Aftermath and Invasive
"Necrotech is a high-octane cyberpunk thrill ride that starts at full throttle and never slows down. Riko is an amazing, diverse, ass-kicking character that will leave readers wanting more."
– Tim Moore, Strange Horizons
"Vulgar, vicious, and very very good! Alexander pulls no punches in this intense debut."
– Jason M. Hough, NYT Bestselling author of Zero World
"Scalding and brutal as a radiation shower, punishing as a street fight, and as sharp as a blade to the jugular, Necrotech and its badass heroine, Riko, will grab your heart in a diamond steel fist and squeeze it to a pulp."
– Lila Bowen, RT Review Award-winning author of Wake of Vultures
"What I like so much about Necrotech is that Riko's arm isn't perfect. Much like my prosthetic or a wheelchair, it's an end to a means. Which is what I'm ALWAYS MISSING from transhumanism."
– Elsa Sjunneson-Henry, author of "Seeking Truth" in Upside Down: Inverted Tropes in Storytelling
Angry Robot, 9780857666277, 432pp.
Publication Date: November 7, 2017
About the Author
K C Alexander is the author of Necrotech – a transhumanist sci-fi called "a speed freak rush" by NYT bestseller Richard Kadrey and "a violent thrillride" by award-nominated Stephen Blackmoore. She co-wrote Mass Effect: Andromeda: Nexus Uprising with NYT bestseller Jason M. Hough, Bioware's first novelization for Mass Effect: Andromeda. Other credits consist of short stories to Fireside magazine and a contribution to Geeky Giving. Specialties include voice-driven prose, imperfect characters, and reckless profanity. Also, creative ways to murder the deserving – in fiction. Probably. She champions mental health awareness and prefers animals to people. And she writes anything she wants to.
 
kcalexander.com
twitter.com/kacealexander

Author hometown: Bellingham, WA
or
Not Currently Available for Direct Purchase