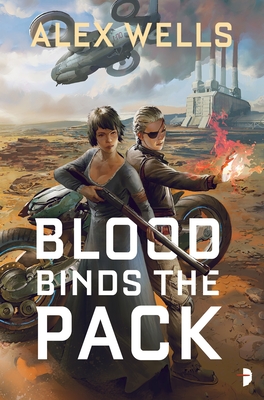 Blood Binds the Pack (The Ghost Wolves #2)
Mass Market

* Individual store prices may vary.
Other Editions of This Title:
MP3 CD (9/11/2018)
Description
Join the fight for the people and power of Tanegawa's world in this thrilling sequel to The Kitschies' Golden Tentacle Award-winning Hunger Makes the Wolf

War is coming to Hob Ravani's world. The company that holds it in monopoly, TransRift Inc, has at last found what they're looking for--the source of the power that enables their Weathermen to rip holes in space and time, allowing the interstellar travel all of human society now takes for granted. And they will mine every last grain of it from Tanegawa's World no matter the cost.

Since Hob Ravani used her witchy powers to pull a massive train job and destroy TransRift Inc's control on this part of the planet, the Ghost Wolves aren't just outlaws, they're the resistance. Mag's miner collective grows restless as TransRift pushes them ever harder to strip the world of its strange, blue mineral. Now Shige Rollins has returned with a new charge--Mr Yellow, the most advanced model of Weatherman, infused with the recovered mineral samples and made into something stranger, stronger, and deadlier than before. And Mr Yellow is very, very hungry.

File Under: Science Fiction [ Secrets of the Power | Outlaws Resist | Witch World | Weatherman Storm ]
Praise For Blood Binds the Pack (The Ghost Wolves #2)…
"THIS. WAS. MAGNIFICENT. An absolute riot of a SF/fantasy alt-Western, set on a remote desert world where a greedy technology corporation is coming up against both magic and the power of unionising. Also biker witches and female friendships. This book *rocks*."
– KJ Charles, author of The Magpie Lord
"It is a rare thing, when a second book from an author surpasses the excellence of the first. I did not expect to be so swept away, but Blood Binds the Pack is a tremendous story. Everything you loved about Hunger Makes the Wolf is here – the weird west setting, the charming characters, the fight for lives and loves. But everything in Blood Binds the Pack elevates all that came before."
– E Catherine Tobler, author of the Folley & Mallory series
"Blood Binds the Pack is a hell of a space western. It ramps to an explosive conclusion—one whose resolution comes a little bit out of nowhere. But on the whole, this is an enormously fun book, and I sincerely hope to see many more books from Alex Wells in the future."
– Tor.com
"Creative, angry, and joyous in equal parts, I can't wait to see what Wells serves up next."
– Binge on Books
"At the risk of sounding like I'm gushing, I properly loved this book!"
– Helen Lindley
"Blood Binds the Pack will take you on a high-octane ride across the sands of Tanegawa's World with Hob's misfit band of mercenaries. It's a lot of fun to read and stands out as something a bit different. Recommended to anyone that likes sci-fi based future fun and action."
– Helen's Bookshelf
"This is an action-packed thriller, but it also explores issues of those who seek equality and justice from those who control in an impossible situation."
– Strange Alliances
"Combine vivid characters undergoing moral dilemmas, add intense dangers in well-described action sequences, and you get a very enjoyable read."
– Templeton Gate
"If you've been looking for something like the Colorado Coalfield War IN SPAAACE WITH EXTRA ADDED PSIONICS! then this may be what you want."
– James Davis Nicoll

"There is a distinctive sensation I get from visiting Tanegawa's World, the planet where Alex Wells' Hob Ravani novels are set – like walking against the wind, sand grinding between my teeth. It's a pitiless, unrelenting tableau of salt and grit and thirst, and, like the best planets, its inhabitants are at the mercy of its disposition. It shapes your body, colonizes your mind."
– The 1000 Year Plan
Praise for Hunger Makes the Wolf
"While the backdrop may be arid and dusty, Alex Well's debut is lush with ideas, characters and invention. A story of chosen families, the different battlefields we choose and that are chosen for us and what it means to be more or less than human, Hunger Makes The Wolf does the near impossible; takes a sub genre that was looking largely played out and uses it as the foundation stone for something new, rich and strange."
– Winner of The Kitschies' Golden Tentacle Award for Best Debut 2017
Angry Robot, 9780857666475, 496pp.
Publication Date: February 6, 2018
About the Author
Alex Wells is a writer, geologist, and sharp-dressed sir. They've had short stories in Strange Horizons, Lightspeed, Daily Science Fiction, Shimmer, and more. Alex is a host on the popular Skiffy and Fanty podcast, where they talk about movies and other nerdy sci-fi and fantasy things.
 
rachaelacks.com
twitter.com/katsudonburi
 
Author hometown: Denver, Colorado
or
Not Currently Available for Direct Purchase