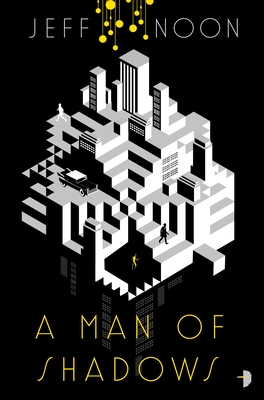 A Man of Shadows (Nyquist Mysteries #1)
Paperback

* Individual store prices may vary.
Other Editions of This Title:
MP3 CD (3/20/2018)
Description
A private eye stalks a serial killer through the streets of a permanently dark world in this mind-bending sci-fi thriller from one of the genre's most visionary authors
 
Below the neon skies of Dayzone—where the lights never go out, and night has been banished—lowly private eye John Nyquist takes on a teenage runaway case. His quest takes him from Dayzone into the permanent dark of Nocturna.
 
As the vicious, seemingly invisible serial killer known only as Quicksilver haunts the streets, Nyquist starts to suspect that the runaway girl holds within her the key to the city's fate. In the end, there's only one place left to search: the shadow-choked zone known as Dusk.
Praise For A Man of Shadows (Nyquist Mysteries #1)…
"This superb novel of light, glass and blood proves again that Jeff Noon is one of our few true visionaries."
—Warren Ellis
"A disturbing and bizarre journey by one of the great masters of weird fiction."
—Adrian Tchaikovsky, Arthur C. Clarke Award-winning author of Children of Time
"Every Jeff Noon novel is a wonderful, precious thing. These are bad times, and we need him more than ever."
—Dave Hutchinson, British Science Fiction Association award-winning author of the Europe series
"Style has always been Noon's strongest suit, and in creating the varied cityscapes of A Man of Shadows, his talent for hallucinatory imagery has found a perfect match. This book is absolutely drenched in arresting visuals."
—Sam Reader for The B&N Sci-Fi & Fantasy Blog
"Manchester's delirious prophet returns with scripture written in shadow and light."
—Kieron Gillen, co-creator of The Wicked + The Divine
"Noon has written a kaleidoscopic noir novel of dizzying dream logic."
—Publishers Weekly
"[Noon's] prose takes you to weird and scary places other novelists don't go - a reminder why he's so revered."
—SFX magazine
"It's a stylish and distinctive vision of a world that remains morally grey and foggy, even when under Dayzone's bright artificial lights. Weirdly compelling."
—The Spectator
"This is a beguiling introduction to a strange new world, and a trip worth taking."
—Sci-Fi Now magazine
"While Vurt was undeniably the in-your-face work of a brash wunderkind, A Man of Shadows is arguably even better: the product of a more mature, surer writer with less desire to awe the reader for the sheer sake of showing off his chops, and more intent on producing emotional resonances, more vivid storylines, and imparting whatever hard-earned wisdom the writer has garnered."
—Paul di Filippo, for Locus
"Clocks and watches form a recurrent motif in this artful, eerie novel that infuses the mystery genre with symbolism and soul."
—James Lovegrove, for Financial Times
Angry Robot, 9780857666703, 352pp.
Publication Date: August 1, 2017
About the Author
Jeff Noon is an award-winning British novelist, short story writer and playwright. He won the Arthur C Clarke Award for Vurt, the John W Campbell award for Best New Writer, a Tinniswood Award for innovation in radio drama and the Mobil prize for playwriting. He was trained in the visual arts, and was musically active on the punk scene before starting to write plays for the theatre. His work spans SF and fantasy genres, exploring the ever-changing borderzone between genre fiction and the avant-garde. Find him at:

jeffnoon.weebly.com
twitter.com/jeffnoon