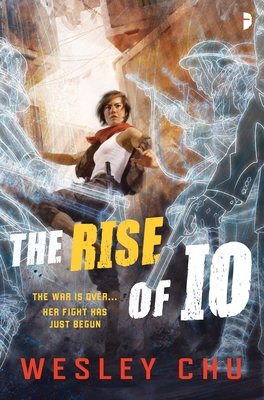 The Rise of Io (Io Series #1)
Mass Market

* Individual store prices may vary.
Other Editions of This Title:
Paperback (10/4/2016)
Description
The fate of India lies in the hands of a young street urchin and the alien living inside her head in this rollicking sci-fi adventure from the author The Lives of Tao
 
Ella Patel—thief, con-artist and smuggler—is in the wrong place at the wrong time. One night, on the border of a demilitarized zone run by the body-swapping alien invaders, she happens upon a man and woman being chased by a group of assailants. The man freezes, leaving the woman to fight off five attackers at once, before succumbing. As she dies, the sparkling light that rises from the woman enters Ella, instead of the man. She soon realizes she's been inhabited by Io, a low-ranking Quasing who was involved in some of the worst decisions in history. Now, Ella must now help the alien presence to complete her mission and investigate a rash of murders in the border states that maintain the frail peace.

With the Prophus assigned to help her seemingly wanting to stab her in the back, and the enemy Genjix hunting her, Ella must also deal with Io's annoying inferiority complex. To top it all off, Ella thinks the damn alien voice in her head is trying to get her killed. And if you can't trust the voices in your head, who can you trust?
Praise For The Rise of Io (Io Series #1)…
"Years after a killer debut, Wesley Chu keeps leveling up. Storytelling that seems so effortless you never see the punches coming."
– Peter V Brett, NYT-bestselling author of the Demon Cycle series

"The Rise of Io is great ride, and I desperately want a Quasing.  The idea of a cosmic cheering section in my own head sounds delightful.  Not to mention my Quasing would make me totally boss.  Another hit by Wesley Chu."
— Melinda Snodgrass, author of "The Measure of a Man," co-creator of the Wild Cards series

"I'm in awe of this book. Ella Patel is a fantastic, flawed, sympathetic protagonist who pops off the page from the moment you meet her and leads you on a breathtaking adventure that is at once poignant and wondrous."
— Ken Liu, Hugo, Nebula, and World Fantasy winning author of The Grace of Kings

"Ella is a strong protagonist, scrappy & determined. You're going to love her!" 
—Laura Lam, author of False Hearts

"Damn, this is a great book. Wesley Chu may have created his best character yet with Ella – a  scrappy, savvy street urchin, who he tosses into a world of hidden aliens, political maneuvering, and possible treachery. The Rise of Io is a fun, fast, beautifully written book that grabbed me on page one and didn't let me go."
— Peter Clines, author of The Fold and the Ex-Heroes series

"A fun, rollicking adventure, with a unique and charming heroine. The Rise of Io
gives us a fresh look at the world of Campbell Award Winner Wes Chu's witty, action-packed, globe-trotting Tao series." 
— Ramez Naam, author of Nexus and the Philip K Dick Award-winning Apex
 
"Ella Patel of Crate Town is my favorite kind of hero, a young person struggling to survive on a diet of tough living and petty crime who gets swept up in world-spanning intrigue and danger. Wesley Chu's funny, confident writing never sacrifices good science fiction world-building for the sake of action. While the bullets fly and knife blades flash, Chu also gives us body-jumping aliens and poignant characterizations. 
The Rise of Io is a fast and furious ride piloted by an author rising to the top of his field."
— Greg Van Eekhout, author of California Bones
 
"Wes Chu's meteoric rise to popularity isn't the least bit surprising. He's the freshest voice in science fiction since John Scalzi and James SA Corey, and is leading the charge to revitalize the genre."
— Myke Cole, author of the Shadow Ops series

"It's like Men in Black and Blade Runner had a baby, and it took over the world."
— Dan Wells, bestselling author of the Partials novels and I Am Not a Serial Killer

"With rich world-building, twisty politics and plot, plus some kick-ass leading ladies, The Rise of Io had everything I look for in sci-fi, and more. I loved this book!"
— Susan Dennard, bestselling author of Truthwitch

"Wesley Chu keeps getting better and better. Ella Patel is engaging and exciting, and her story grabs you by the front of your shirt and drags you along for one heck of a ride."
— Diana Rowland, author of the Kara Gillian and White Trash Zombie series

"An absolute blast of a book! With fresh characters, incredible world building, and buckets of humor, The Rise of Io is everything you want in a sci-fi novel."
– Suzanne Young, New York Times bestselling author of The Program series
 
 "In the end, this is an excellent novel , based off a core relationship between interesting, well-drawn characters, in a vivid environment. That it has enough chase scenes and hand-to-hand combat to start a movie franchise is just a bonus."
– Sci-Fi and Fantasy Reviews

"If you are at all interested in sci-fi, aliens, sci-fi military, or even street smarts versus military smarts, or just want a good read with great characters, pick up this book!"
– Blogger's Bookshelf

"Wesley Chu's ability to write fast-paced action, entertaining characters, and new plot twists is a thing to marvel at."
– Sarah Says Read

"The Rise of Io is a must read for Tao fans."
– A Thrill A Week

"This is a fun, fast-paced, adventure slash science fiction… every time I read a bit, I finished with a smile on my face."
– Eric Christensen

"Great characters, twists, suspense and grins — I dug this one so much. He keeps the magic of the Tao books, reinvigorates it and expands it. I expected Chu to deliver just what fans wanted without it being a case of 'second verse, same as the first,' I just didn't expect it'd be this good."
– Irresponsible Reader

"Top to bottom…total FUN."
– Shelf Inflicted

"Fans of Cory Doctorow, Suzanne Collins and Meljean Brook will relish Chu's latest, a thriller with a sci‐fi bent."
– RT Book Reviews

"It puts awesome women in the lead roles; has a nicely diverse cast; and tells a story that's not only a thrill-a-minute, but focuses on some of the ugly truths about the world that need a bit more focus put on them, if only because they need to be fixed to make the world a better place. Even better, it all comes wrapped in a fun, sci-fi near-future thriller package… If the reader is hankering for a Black Widow movie, but with a healthy helping of representation of the kind we're unlikely to get from anything coming out of Hollywood right now, then this five-star book is going to scratch that itch."
– Fangirl Nation

"Ella might be one of my favorite fictional characters ever, I simply loved everything about her."
– The Speculative Herald

"Politics, changing loyalties, secrets, lies and high stakes – The Rise of Io has it all."
– Books, Bones & Buffy

"Wesley Chu manages to outdo himself here, and his universe is much better for it."
– The B&N Sci-Fi & Fantasy Blog

"I loved The Rise of Io – in fact I'm just going to be totally reckless ('fools rush in, something something something….') and say that this is my favourite Chu book to date.  "
– Lynn's Books

"The Rise of Io is a masterclass in character development."
– Strange Alliances

"This book has EVERYTHING that I love! It's got action, it's got mischievous characters, it's got a fully developed world, it's got intelligent characters, and it keeps me guessing."
– Bloglovin'

"Fresh, yet deep, science fiction… The book is a must read."
– Moore Fantasy

"The Rise of Io is a thrill-a-minute read comparable to the best summer blockbusters that any studio can produce."
– Occasionally Random Book Reviews

"Chu's stories of body-swapping aliens are both fun and funny."
– Kirkus Reviews

"It brings a fresh new perspective to a world and storyline I'm already familiar with and it does it with so much style, you can't help but smile in appreciation of the talent on display here."
– Fantasy Faction

"This is Wesley Chu building marvellously on his previously established setting, showing off a maturing style that was promised in the Tao books. It felt immensely satisfying to see that growth, not only in the story but in the writer, and it's left me thoroughly excited for the follow-up to this book."
– Over The Effing Rainbow

"Sucks you in deep – four stars out of five."
– Rob Boffard – Rapped Reviews

"A fun read with plenty of suspense and a real cliff hanger at the end. 5 out of 5 stars."
– Mixed Book Bag

"Exciting, fast-paced and thrilling, this is a great book!"
– Morpheus Tales

"The Rise of Io is indeed a triumph, and whether you've read about Tao or if Io is your first Quasing, it's definitely in your own best interests to climb on board. Believe me, you're in for a fun ride!"
– Litstack

"It defies conventions while engages readers in hilariously heartfelt narration. I could not recommend this book more."
– Better Books and Things

"A great read. It was filled with all of the things I love in a book – action, sympathetic and interesting characters, political intrigue, a well thought out and believable setting, and enough humor to keep me chuckling, but not enough to pull me away from the seriousness of the adventure they were on. Like I said earlier, this book needs to be a movie."
– The Geekiverse

"Three things contribute to the success of this novel: an understated, occasionally snarky sense of humor, well-done action sequences, and strong character development."
– Publishers Weekly

"It was like reading a summer blockbuster in book form. And the banter was amazing! Chu definitely has a gift for writing hilarious and action-packed stories!"
– Goldilox and the Three Weres

"The author won me over with Ella, a feisty, street-smart heroine. Her snarky attitude and just as often, her bullheadedness became the high-point of this new series."
– Controlling the Transmissions

"My worry with this book was that it was a case of an author not being able to let go of the universe they created even when there is no more story to tell. These are almost never good. Thankfully, this was 100% not the case here."
– Book Geeks Uncompromised

"The Rise of Io by Wesley Chu returns to Chu's world of Prophus and Genjix but with a new set of characters who are strong and wilful and a delight to read."
– Looking for a Good Book
Angry Robot, 9780857667328, 512pp.
Publication Date: August 1, 2017
About the Author
Wesley Chu was born in Taiwan and immigrated to Chicago, Illinois when he was just a pup. It was there he became a Kung Fu master and gymnast. Wesley is an avid gamer and a contributing writer for the magazine Famous Monsters of Filmland. A former stunt man and a member of the SAG, he can also be seen in film and television playing roles such as "Banzai Chef" in Fred Claus and putting out Oscar worthy performances as a bank teller in Chicago Blackhawks commercials. His debut novel The Lives of Tao was recognized with YALSA's Alex Award. Besides working as an Associate Vice President at a bank, he spends his time writing and hanging out with his wife Paula Kim and their Airedale Terrier, Eva.
or
Not Currently Available for Direct Purchase