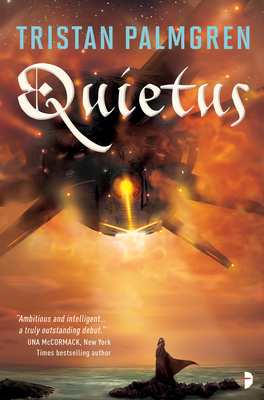 Quietus (The Unity #1)
Paperback

* Individual store prices may vary.
Other Editions of This Title:
MP3 CD (7/10/2018)
Description
A transdimensional anthropologist can't keep herself from interfering with Earth's darkest period of history in this brilliant science fiction debut

Niccolucio, a young Florentine Carthusian monk, leads a devout life until the Black Death kills all of his brothers, leaving him alone and filled with doubt. Habidah, an anthropologist from another universe racked by plague, is overwhelmed by the suffering. Unable to maintain her observer neutrality, she saves Niccolucio from the brink of death.
 
Habidah discovers that neither her home's plague nor her assignment on Niccolucio's world are as she's been led to believe. Suddenly the pair are drawn into a worlds-spanning conspiracy to topple an empire larger than the human imagination can contain.

File Under: Science Fiction
Praise For Quietus (The Unity #1)…
"In this ambitious and intelligent novel, Palmgren takes the staples of science fiction – post-apocalypse, first contact, interventionism – and integrates them seamlessly, breathing new life into familiar forms. A truly outstanding debut."
– NYT bestselling author Una McCormack
"A cast of well-drawn characters and a narrative that is initially tightly focused but rapidly expands to encompass the stars draw the reader into this ambitious tale of intrigue, conspiracy and adventure. Quietus has the trappings of space opera but plays around with so much more; it's an impressive debut that marks the author as one to watch."
– Ian Whates, author of Pelquin's Comet
"Palmgren's debut immerses the reader in the rat-infested, plague-ravaged streets of 14th-century Europe then flips the narrative to a dizzying scale as the characters uncover layer upon layer of deception, examining what it is to be human along the way. A fine piece of SF and WTF."
– Susan Murray, author of The Waterborne Blade
"It's a great book that can put you into the same heart-pounding position as its characters, just trying to figure it all out. "
– Barnes & Noble Sci-Fi & Fantasy Blog
"This was something rather interesting. I really enjoy the chances it takes." 5/5*
– Bradley Horner's Book Reviews
"Quietus is the kind of science fiction read that is not all big explosions and fast-paced adventures, but something more contemplative and complex. It rewards patient readers with a deep, layered story that tackles the theme of action versus inaction in a way that applies not just to the context of the story, but to the real world as well."
– Occasionally Random Book Reviews
"The setting did feel believable and well researched, and I appreciated the innovative touches the science fiction added to the historical."
– The Illustrated Page
"A bold swing from a fresh new voice in speculative fiction."
– The Speculative Shelf
"Palmgren demonstrates remarkable poise for a debut novelist with regards to the depth of world building and character development in a cleverly conceived plot, making him a writer to watch in the future."
– Strange Alliances
"Quietus is contemplative without being ponderous or overly cerebral. It is intelligent and engaging from the start, carefully conceived as both an intimate character study and a grandly epic adventure. Like its wonderful cover (yes, go ahead and judge it by), it seems to emerge from the mist, bathed in warm light, while its scale is terrifyingly sublime."
– The 1000 Year Plan
"As much as I love books with high action and low exposition, every now and then it's good to stretch my brain with a book like this. A book with more philosophy and story than action, but still well balanced and interesting."
– Purple Owl Reviews

"Quietus is a stunning first novel. It's packed with emotion, intelligence, and philosophy, spans entire universes and has a cast of trillions, which makes it all the more miraculous how personal the view-point often is,"
–  BFSA
Angry Robot, 9780857667434, 464pp.
Publication Date: March 6, 2018
About the Author
Tristan Palmgren has been a clerk, a factory technician, a university lecturer, a cashier, a secretary, a retail manager, a rural coroner's assistant. In his lives on parallel Earths, he has been an ant farm tycoon, funeral home enthusiast, professional con-artist impersonator, laser pointer chaser, and that guy who somehow landed a trademark for the word "Avuncular." Jealous. He lives with his wife Teresa in Columbia, Missouri.
 
twitter.com/tristanpalmgren

Author hometown: Columbia, Missouri
or
Not Currently Available for Direct Purchase