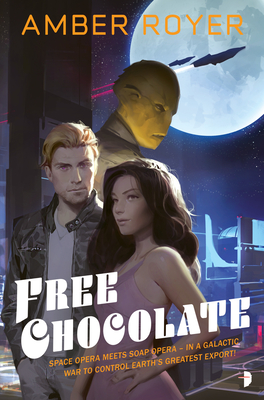 Free Chocolate (The Chocoverse #1)
Paperback

* Individual store prices may vary.
Description
In the far future, chocolate is Earth's only unique commodity one that everyone else in the galaxy is willing to kill to get their hands, paws and tentacles on
 
Latina culinary arts student, Bo Benitez, becomes a fugitive when she's caught stealing a cacao pod from one of the heavily-defended plantations that keep chocolate, Earth's sole valuable export, safe from a hungry galaxy. 
 
Forces array against her including her alien boyfriend and a reptilian cop. But when she escapes onto an unmarked starship things go from bad to worse: it belongs to the race famed throughout the galaxy for eating stowaways! Surrounded by dangerous yet hunky aliens, Bo starts to uncover clues that the threat to Earth may be bigger than she first thought. 

File Under: Science Fiction [ Heiress Apparent | Sticky Fingers | Pod People | The Milky Way ]
Praise For Free Chocolate (The Chocoverse #1)…
"Free Chocolate is quirky, fun, and loaded with sci-fi chocolaty goodness! This book is a calorie-free treat."
– Beth Cato, author of Breath of Earth
"Exhilarating fun in a galaxy muy loca for Earth's most sublime delicacy! Bodacious lives up to her name, and not even certain death can slow her down. Free Chocolate proves that romance, intrigue, space opera, mortal peril, and culinary ambition can be served with a sweet side dish of humor."
– Sue Burke, author of Semiosis
"You had me at laser monkey robots."
– Arianne "Tex" Thompson, author of the Children of the Drought trilogy
"[A] clever debut… darkly comic and sometimes deadly serious."
– Publishers Weekly
"This space opera-meets-soap opera debut is, ultimately, a rollicking adventure; a heist story in which chocolate is the greatest prize of all. Yum."
– Barnes & Noble Sci-Fi & Fantasy Blog
"Soap opera drama mixed with sci-fi high stakes, Free Chocolate is a muy thrilling ride!"
– Laura Maisano, author of Cosplayed and Schism
"Earth has a monopoly on chocolate. The aliens will do anything to get a cacao sample, and the planetary government will do anything to stop them. What a premise!"
– Daniel M Benson, author of Groom of the Tyrannosaur Queen
"¡Muy deliciosa! Amber Royer's Free Chocolate is nonstop fun on every page! From strangely delicious sounding cosmic treats to Spanglish-speaking intergalactic diplomats to the relentlessly breathtaking feartastic adventure, this is a unique read and a total page-turner! Not only does Royer introduce the first university-student Mexican sci-fi heroine, with a host of wildly eclectic friends, but she builds a believable universe around them that is a true delight to visit. Can't wait for the next adventure!"
– Eden Unger Bowdich, author of the Young Inventors Guild Series
"Free Chocolate is an absolutely bodacious debut for author Amber Royer, and a uniquely entertaining treat for readers! Part sci-fi space romp, part political thriller, and part sweet romance, this book fulfils every literary craving."
– Diane Kelley, author of the Tara Holloway series and the Paw Enforcement series
"Hunky aliens, a universe that prizes chocolate above all else, and a smart heroine on the run are the key ingredients in this sweet sci-fi adventure, equal parts space opera and soap opera."
– Tor.com
"Free Chocolate is everything I could have wanted and more, complete with intricate and dramatic characters, dozens of twisting plot lines that lead to a slam-bang finish, and an absurd resource at the center of all the drama: chocolate. This is an outstanding debut novel in a universe I can't wait to dive deeper into. 5 out of 5 robots."
– Reviews & Robots
Angry Robot, 9780857667502, 448pp.
Publication Date: June 5, 2018
About the Author
AMBER ROYER teaches enrichment and continuing education creative writing classes for teens and adults. She spent five years as a youth librarian, where she organized teen writers' groups and teen writing contests. In addition to two cookbooks co-authored with her husband, Amber has published a number of articles on gardening, crafting and cooking for print and on-line publications.
 
amberroyer.com
twitter.com/amber_royer

Author hometown: Arlington, Texas
or
Not Currently Available for Direct Purchase