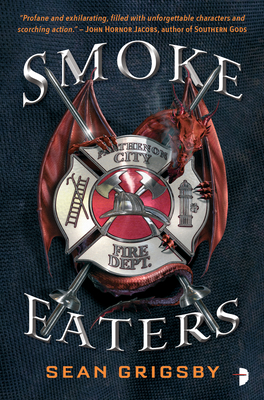 Smoke Eaters
Mass Market

* Individual store prices may vary.
Other Editions of This Title:
Digital Audiobook (3/5/2018)
Description
When dragons rise from the earth, firefighters are humanity's last line of defence, in this wild near-future fantasy.

Firefighter Cole Brannigan is on the verge of retirement after 30 years on the job, and a decade fighting dragons. But during his final fire call, he discovers he's immune to dragon smoke. It's such a rare power that he's immediately conscripted into the elite dragon-fighting force known as the Smoke Eaters.  Retirement cancelled, Brannigan is re-assigned as a lowly rookie, chafing under his superiors. So when he discovers a plot to take over the city's government, he takes matters into his own hands. With hundreds of innocent civilians in the crosshairs, it's up to Brannigan and his fellow Smoke Eaters to repel the dragon menace.

File Under: Fantasy
Praise For Smoke Eaters…
"An ingenious premise that Grigsby delivers on with intelligence and style. Smoke Eaters is a treat!"
— Jason M Hough, New York Times Bestseller
"I love dragon stories in which the dragons are real monsters, laying waste to everything around them; and I love novels with protagonists who aren't callow young adults learning that they're chosen ones. Smoke Eaters has terrific dragons, and a hero with some miles and experience on him, plus great writing and a wicked sense of humor. I flew through it."
– Alex Bledsoe, author of The Hum and the Shiver and Burn Me Deadly
"Sean Grigsby has conceived what promises to be a brilliant and harrowing series. Dragons have returned, bringing fire, revenant spirits and ash in their wake. Cole Brannigan, a grizzled no nonsense fire-fighter, is there to stand in their way. Profane and exhilarating, filled with unforgettable characters and scorching action, Smoke Eaters is an amazing mix of adventure, fantasy, and science-fiction. Grigsby is an electrifying new voice sounding out over the wraith-haunted land."
– John Hornor Jacobs, award-winning author of Southern Gods and The Incorruptibles
"I've been waiting for a book like this for years. Original, exciting, Smoke Eaters is a red-hot page-turner."
– Adam Christopher, author of Empire State and Made to Kill
"Smoke Eaters is a thrilling, exciting, funny and strangely heart-warming book, and Grigsby's experience as a firefighter shines through on every page, lending grit and realism to this rollicking ride of a tale in which firefighters become dragon-slayers. It's exactly as bonkers – and as brilliant – as you'd expect and I look forward to more from this author."
– Anna Stephens, author of Godblind
"This smoking debut is a shot of adrenaline to the urban fantasy genre. Grigsby's knowledge of firefighting combined with hot dragon action and blistering humor create an irresistible romp of a read."
– Jaye Wells, USA Today Bestselling author of the Prospero's War series
"This red-hot debut will torch off all your skin and leave you in the burn ward. The skin grafts won't take, and you'll die of a massive infection after an agonizing month of pain unlike anything you can imagine. Also dragons."
– Patrick S Tomlinson, author of Gatecrashers and Children of the Divide
"This book has so many elements that I love. You've got a cast of characters, with attitude and mild superpowers, who are up against ancient monsters, robots and a corrupt government. Seriously, what's not to enjoy?"
– Purple Owl Reviews
"It is a freaking awesome premise that should be appealing to everyone with a pulse."
– High Fever Books
"It's a pretty entertaining story. Oh, did I mention there are also wraiths? And robots? And some kick-ass battles? … the details Sean Grigsby used in the novel all ring true, thanks to his firsthand experience as a firefighter."
– czuk it and czukart
Angry Robot, 9780857667731, 336pp.
Publication Date: March 6, 2018
About the Author
SEAN GRIGSBY is a professional firefighter in central Arkansas, where he writes about lasers, aliens, and guitar battles with the Devil when he's not fighting dragons. He grew up on Goosebumps books in Memphis, Tennessee, and hosts the Cosmic Dragon podcast.

seangrigsby.com
twitter.com/seangrigsby
or
Not Currently Available for Direct Purchase