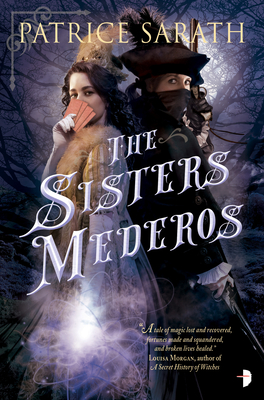 The Sisters Mederos (Tales of Port Saint Frey #1)
Paperback

* Individual store prices may vary.
Description
Two sisters fight with manners, magic, and mayhem to reclaim their family's name, in this captivating historical fantasy adventure.

House Mederos was once the wealthiest merchant family in Port Saint Frey. Now the family is disgraced, impoverished, and humbled by the powerful Merchants Guild. Daughters Yvienne and Tesara Mederos are determined to uncover who was behind their family's downfall and get revenge. But Tesara has a secret – could it have been her wild magic that caused the storm that destroyed the family's merchant fleet? The sisters' schemes quickly get out of hand – gambling is one thing, but robbing people is another…

Together the sisters must trust each another to keep their secrets and save their family.

File Under: Fantasy
Praise For The Sisters Mederos (Tales of Port Saint Frey #1)…
"Patrice Sarath gives us a colorful Dickensian fantasy that leads the reader on an unpredictable path of murder, intrigue, and mystery, served up with her customary lively characterizations and pitch-perfect dialogue. It's a tale of magic lost and recovered, fortunes made and squandered, and broken lives healed, all of it engineered by Yvienne and Tesara, two resourceful and delightful protagonists, in the company of some charming and often dangerous sidekicks."
– Louisa Morgan, author of A Secret History of Witches
"Patrice Sarath takes readers on a fine, twisty adventure with two determined young women who abandon their dutiful, well mannered upbringing for drawing room gambling, dark alleys, and magic."
– Carol Berg, author of The Sanctuary Duet and the Collegia Magica Series
"Delightful and compulsively readable account of the escapades of two strong willed sisters determined to restore their rightful place though disreputable means."
– Tina Connolly, Nebula-nominated author of Ironskin
"I loved the determination of the Sisters Mederos! Despite myriad setbacks, they return to the city that crushed their family a decade before, take on the corrupt guild, and bring their enemies to justice. The first chapter in a thrilling new series!"
– J Kathleen Cheney, author of The Golden City series and Nebula Award finalist
"The Sisters Mederos is a deliciously fun, immersive fantasy about magic, complicated family loyalties, guilt and adventure, jam-packed with wonderful women characters. A delight!"
– Stephanie Burgis, author of Masks and Shadows and Snowspelled
"The novel moves at a quick pace, and, coupled with the exciting adventures of the two daredevil sisters, the reader can't help but want to read on."
– British Fantasy Society
"Enjoyable picaresque fantasy."
– Publishers Weekly
"The author is a very good writer and the book was well written."
– The Misadventures of a Reader
"Yvienne and Tesara's capers are so zany and fun, and the added element of thumbing their noses at the Guild makes them even sweeter. If you're looking for a fantasy of manners with lots of madcap action, then The Sisters Mederos is a good place to begin!"
– Fine Print
"If you enjoy character-driven historical fantasy with strong female leads and a touch of magic, this could definitely be a book for you!"
– Nana's Fantastical Reads
"While the sisterhood relationship was my favorite, I was also really impressed with the plot – especially the ending third of the book. There are all these threads that we don't even really pick up on until then that are revealed in this sort of bewitching dance. Many other people and elements come together to deliver a thoroughly entertaining plot."
– Utopia State of Mind
"Sarath does an excellent job of characterization, giving people wants, needs, and goals that are offset by their own foibles, weaknesses, and strengths."
– Surreal Tavi
Angry Robot, 9780857667755, 368pp.
Publication Date: April 3, 2018
About the Author
Patrice Sarath is an author and editor living in Austin, Texas. Her novels include the fantasy series Books of the Gordath, and the romance The Unexpected Miss Bennet. Her numerous short stories have appeared in many magazines and anthologies, including Year's Best Fantasy of 2003 and Best Tales of the Apocalypse.

http://www.patricesarath.com/
https://twitter.com/PatriceSarath
or
Not Currently Available for Direct Purchase