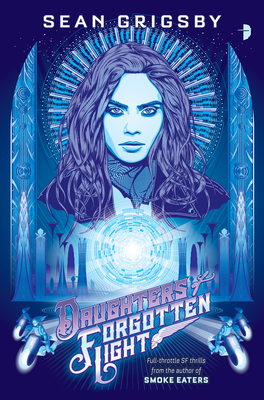 Daughters of Forgotten Light
Paperback

* Individual store prices may vary.
Other Editions of This Title:
Digital Audiobook (9/3/2018)
Description
A floating prison is home to Earth's unwanted people, where they are forgotten... but not yet dead, in this wild science fiction adventure

Deep space penal colony Oubliette, population: scum. Lena "Horror" Horowitz leads the Daughters of Forgotten Light, one of three vicious gangs fighting for survival on Oubliette. Their fragile truce is shaken when a new shipment arrives from Earth carrying a fresh batch of prisoners and supplies to squabble over. But the delivery includes two new surprises: a drone, and a baby. Earth Senator Linda Dolfuse wants evidence of the bloodthirsty gangs to justify the government finally eradicating the wasters dumped on Oubliette. There's only one problem: the baby in the drone's video may be hers.

File Under:Science Fiction [ Banged Up |Out of Mind |Girls Gone Bad | Moppet in Space ]
Praise For Daughters of Forgotten Light…
"A fun, fast, foul-mouthed thrill ride with more than its share of real surprises and pathos."
– Spencer Ellsworth, author of A Red Peace
"An incredibly diverse cast of villains who all just happen to be female, motorcycles that run on light and a glass prison in space, Daughters of Forgotten Light is a joyride into anarchy and out the other side."
– Anna Stephens, author of Godblind
"Rollicking pulp action around a deep, dark heart brimming with barely-contained rage. The book balances brutal deprivation and violence against moments of pride, joy, and sadness. Even pitted at deadly odds against one another, the women of Daughters of Forgotten Light form powerful relationships that shine against their bleak world. The book never apologizes and never pulls a punch, and neither do its characters."
– Caitlin Starling, author of The Luminous Dead
"Put your helmet on! Grit, grease, and fast-paced futuristic action, complete with hardbitten women throwing energy boomerangs while speeding on motorcycles, makes this a riveting ride."
– Cat Rambo, Nebula nominee and president of SFWA
"High octane and hard hitting. Daughters of Forgotten Light is exactly what I want from sci-fi: badass women getting it done... with unapologetic grindhouse glam."
– KC Alexander, author of Necrotech and Mass Effect: Andromeda: Nexus Uprising
"Grab your energy boomerang and get ready for a wild ride! Grigsby's latest book is a full-throttle nightmarish sci-fi Mad Max: Fury Road. It's violent, intense, and packed with passion as exiled women fight for their very right to exist."
– Beth Cato, Nebula nominee and author of Breath of Earth
"I enjoyed Daughters of Forgotten Light. It's very entertaining pulp, and Grigsby has a lot of promise as an author. I'll be looking forward to his future work."
– Locus
"Another opportunity for Grigsby to deliver on a brilliant concept – in this case, a sci-fi thriller than blends the righteous anger of Kelly Sue DeConnick and Valentine de Landro's Bitch Planet with the crackerjack action thrills of Escape from New York."
– Barnes & Noble Sci-Fi & Fantasy Blog
"A gripping tale with deadly, dangerous, powerful female characters who are impossible to forget."
– Rambles, Writings and Amusing Musings
"It was definitely something different... I will warn you, this is not a book for the faint of stomach... Be prepared for blood, foul language and violence. In case you can't tell from how long this review is, I really did enjoy this book. And the ending is quite what I wanted, but I was very happy with it. 4.5 hoots!"
– Purple Owl Reviews
"A brilliantly written book by Sean Grigsby with an end you won't see coming. A gripping tale with deadly, dangerous, powerful female characters who are impossible to forget."
– Solo the First
"Grigsby keeps his promise to readers who pick up his books looking for action. This isn't the place to question plausibilities, turn the page already! Suspension of disbelief is taken for granted through the gore and visceral grunge. It works. Daughters of Forgotten Light left me with a book hangover thick with 'What was that I just read?' and 'Where do I get more?'"
– SFF World
"The action sequences, aesthetic and raw fun and action of events on the prison planet meant that Daughters of Forgotten Light was entertaining and a quick and fun read. If you are looking for high octane action and adventure with a cast of women characters, in spaace, Daughters of Forgotten Light is for you."
– Skiffy and Fanty
Praise for Sean Grigsby
"An ingenious premise that Grigsby delivers on with intelligence and style. Smoke Eaters is a treat!"
– Jason M Hough, New York Times Bestseller
"I love dragon stories in which the dragons are real monsters, laying waste to everything around them; and I love novels with protagonists who aren't callow young adults learning that they're chosen ones. Smoke Eaters has terrific dragons, and a hero with some miles and experience on him, plus great writing and a wicked sense of humor. I flew through it."
– Alex Bledsoe, author of The Hum and the Shiver and Burn Me Deadly
"Sean Grigsby has conceived what promises to be a brilliant and harrowing series. Dragons have returned, bringing fire, revenant spirits and ash in their wake. Cole Brannigan, a grizzled no nonsense fire-fighter, is there to stand in their way. Profane and exhilarating, filled with unforgettable characters and scorching action, Smoke Eaters is an amazing mix of adventure, fantasy, and science-fiction. Grigsby is an electrifying new voice sounding out over the wraith-haunted land."
– John Hornor Jacobs, award-winning author of Southern Gods and The Incorruptibles
"I've been waiting for a book like this for years. Original, exciting, Smoke Eaters is a red-hot page-turner."
– Adam Christopher, author of Empire State and Made to Kill
"Smoke Eaters is a thrilling, exciting, funny and strangely heart-warming book, and Grigsby's experience as a firefighter shines through on every page, lending grit and realism to this rollicking ride of a tale in which firefighters become dragon-slayers. It's exactly as bonkers – and as brilliant – as you'd expect and I look forward to more from this author."
– Anna Stephens, author of Godblind
"This smoking debut is a shot of adrenaline to the urban fantasy genre. Grigsby's knowledge of firefighting combined with hot dragon action and blistering humor create an irresistible romp of a read."
– Jaye Wells, USA Today Bestselling author of the Prospero's War series
"This red-hot debut will torch off all your skin and leave you in the burn ward. The skin grafts won't take, and you'll die of a massive infection after an agonizing month of pain unlike anything you can imagine. Also dragons."
– Patrick S Tomlinson, author of Gatecrashers and Children of the Divide
"This book has so many elements that I love. You've got a cast of characters, with attitude and mild superpowers, who are up against ancient monsters, robots and a corrupt government. Seriously, what's not to enjoy?"
– Purple Owl Reviews
"It is a freaking awesome premise that should be appealing to everyone with a pulse."
– High Fever Books
"It's a pretty entertaining story. Oh, did I mention there are also wraiths? And robots? And some kick-ass battles? … the details Sean Grigsby used in the novel all ring true, thanks to his firsthand experience as a firefighter."
– czuk it and czukart
Angry Robot, 9780857667953, 352pp.
Publication Date: September 4, 2018
About the Author
SEAN GRIGSBY is a professional firefighter in central Arkansas, where he writes about lasers, aliens, and guitar battles with the Devil when he's not fighting dragons. He grew up on Goosebumps books in Memphis, Tennessee, and hosts the Cosmic Dragon podcast.

seangrigsby.com
twitter.com/seangrigsby
or
Not Currently Available for Direct Purchase