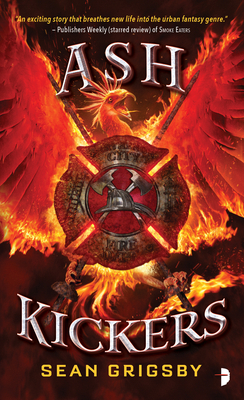 Ash Kickers (Smoke Eaters #2)
Mass Market

* Individual store prices may vary.
Other Editions of This Title:
Digital Audiobook (7/8/2019)
Description
Dragons vs Firefighters vs the Phoenix. The scorching fantasy sequel to Smoke Eaters.

With ex-firefighter Cole Brannigan in command of the Smoke Eaters, the dragon menace is under control. Thanks to non-lethal Canadian tech, the beasts are tranquilized and locked up, rather than killed. But for Tamerica Williams, this job filled with action and danger, has become tediously routine. 

When a new threat emerges, a legendary bird of fire – the Phoenix – it's the perfect task for Williams. But killing the Phoenix just brings it back stronger, spreading fire like a plague and whipping dragons into a frenzy. Will it prove to be too much excitement, even for adrenalin-junkie Williams? 


File Under: Fantasy [ Smoke Em | Catch and Release | Fire Bird | Arson About ]
Praise For Ash Kickers (Smoke Eaters #2)…
"Grigsby's pulse-pounding sequel to Smoke Eaters is a worthy successor that expands on the series' already strong foundation of vivid action and meticulous worldbuilding… vibrantly imagined characters who ring with authenticity, and firefighter Grigsby knows just how to pull readers into scenes full of smoke and flame. Readers will delight in this fresh take on action fantasy."
– Publishers Weekly

"Starting with its title, Ash Kickers, tells you exactly what type of ride you're in for then delivers on that promise with a story that hits like a Skyrim meets Ghostbusters battle royale. In it, you can almost feel Grigsby's glee as he mixes together supersized heroics, mythic creatures, snappy dialogue, and furious fight scenes to form a narrative that reads like a passionate homage to the action blockbusters we all grew up watching."
– Evan Winter, author of The Rage of Dragons

"The fires burn hotter and the action is more furious on our second visit to this unusual urban fantasy universe." 
– B&N Sci Fi & Fantasy Blog

"This book is instinctively and perceptively created and a joy to read. This has been a genuine pleasure to join Tamerica and her team and I look forward to more."
– Geek Syndicate


Praise for Sean Grigsby

"An ingenious premise that Grigsby delivers on with intelligence and style. Smoke Eaters is a treat!"
— Jason M Hough, New York Times Bestseller
"I love dragon stories in which the dragons are real monsters, laying waste to everything around them; and I love novels with protagonists who aren't callow young adults learning that they're chosen ones. Smoke Eaters has terrific dragons, and a hero with some miles and experience on him, plus great writing and a wicked sense of humor. I flew through it."
– Alex Bledsoe, author of The Hum and the Shiver and Burn Me Deadly
"Sean Grigsby has conceived what promises to be a brilliant and harrowing series. Dragons have returned, bringing fire, revenant spirits and ash in their wake. Cole Brannigan, a grizzled no nonsense fire-fighter, is there to stand in their way. Profane and exhilarating, filled with unforgettable characters and scorching action, Smoke Eaters is an amazing mix of adventure, fantasy, and science-fiction. Grigsby is an electrifying new voice sounding out over the wraith-haunted land."
– John Hornor Jacobs, award-winning author of Southern Gods and The Incorruptibles
"I've been waiting for a book like this for years. Original, exciting, Smoke Eaters is a red-hot page-turner."
– Adam Christopher, author of Empire State and Made to Kill
"Smoke Eaters is a thrilling, exciting, funny and strangely heart-warming book, and Grigsby's experience as a firefighter shines through on every page, lending grit and realism to this rollicking ride of a tale in which firefighters become dragon-slayers. It's exactly as bonkers – and as brilliant – as you'd expect and I look forward to more from this author."
– Anna Stephens, author of Godblind
"This smoking debut is a shot of adrenaline to the urban fantasy genre. Grigsby's knowledge of firefighting combined with hot dragon action and blistering humor create an irresistible romp of a read."
– Jaye Wells, USA Today Bestselling author of the Prospero's War series
"A fun, fast, foul-mouthed thrill ride with more than its share of real surprises and pathos."
– Spencer Ellsworth, author of A Red Peace
"Put your helmet on! Grit, grease, and fast-paced futuristic action, complete with hardbitten women throwing energy boomerangs while speeding on motorcycles, makes this a riveting ride."
– Cat Rambo, Nebula nominee and president of SFWA
"High octane and hard hitting. Daughters of Forgotten Light is exactly what I want from sci-fi: badass women getting it done… with unapologetic grindhouse glam."
– KC Alexander, author of Necrotech and Mass Effect: Andromeda: Nexus Uprising
Angry Robot, 9780857667977, 368pp.
Publication Date: July 9, 2019
About the Author
SEAN GRIGSBY is a professional firefighter in central Arkansas, where he writes about lasers, aliens, and guitar battles with the Devil when he's not fighting dragons. He grew up on Goosebumps books in Memphis, Tennessee, and hosts the Cosmic Dragon podcast.

seangrigsby.com
twitter.com/seangrigsby
or
Not Currently Available for Direct Purchase