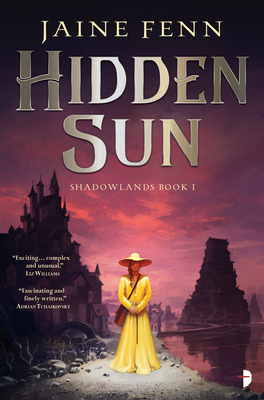 Hidden Sun
Shadowlands Book I
Paperback

* Individual store prices may vary.
Description
An eccentric noblewoman scientist's journey into a hostile environment will change her world forever, in this enthralling fantasy novel.

Rhia Harlyn is a noble in Shen, one of the dozens of shadowlands which separate the bright, alien skyland. She has a missing brother, an unwanted marriage proposal and an interest in science considered unbecoming in her gender. Her brother's disappearance coincided with a violent unsolved murder, and Rhia impulsively joins the search party headed into the skyland - a place whose dangers and wonders have long fascinated her. The dangerous journey brings her into conflict with a young rebel stuck between the worlds of shadow and light, and a charismatic cult leader who believes he can defeat death itself.

File Under: Fantasy [ Secret Science | Iron Age | Caravan of Courage | Into the Light ]
Praise For Hidden Sun: Shadowlands Book I…
"A fascinating and finely written exploration of the human and the alien."
– Adrian Tchaikovsky, Arthur C Clarke Award-winning author of Children of Time
"Intriguing world building and complex cultures are a Jaine Fenn specialty, and Hidden Sun takes these elements to the next level. Fenn fans will enjoy this one!"
– Patrice Sarath, author of The Sisters Mederos
"Brilliantly written; an excellent book that I struggled to put down. Hidden Sun draws you into a strange and evocative world, both alien and oddly familiar. Compelling characters, intrigue and weird science there are few authors capable of writing science fantasy this well."
– Gavin G Smith, author of Age of Scorpio and the Bastard Legion series
"Extraordinary world-building, with a hardcore, violent poetry to the writing. Jaine Fenn continues to be a star of new fantasy."
– Paul Cornell, author of the Lychford novellas
"An exciting tale of adventure set in a complex and unusual world, filled with strong characters and strange phenomena."
– Liz Williams
"Highly recommended."
– Jacey Bedford
"An intriguing introduction to an interesting world."
– Purple Owl Reviews
"Hidden Sun is worth reading. It's interesting and is a good start to what I hope will be a great series. There are so many great possibilities."
– Vampire Book Club
"Hidden Sun is a book which offers a believable and intriguing world in which to journey with the characters."
– Strange Alliances
"A welcome return to novel writing by a talented author."
– SF Brum Group
Praise for Jaine Fenn
"Fenn is at her best when describing the lives of strong women up against it, and excels at fast action thrillers."
– The Guardian
"A vivid and unusual world, populated by an interesting array of characters"
– The Times
"Jaine Fenn opens a window on a fascinating and vivid science fictional world… It's an energetic space opera, an interesting and entertaining entry in an old genre."
– Strange Horizons
"Fenn manages to put her own stamp on some familiar genre elements, enough to make this a genuinely promising debut"
– Locus
"Both plotting and characterisation are handled deftly, while Fenn's world-building of exotic locales is equally impressive... you should read Jaine Fenn – she's bloody ace."
– SFX Magazine
"Tense and fast-paced."
– The Telegraph
"Highly recommended, they're beautiful in emotion along with the action-fueled pace you'd expect from someone like Chuck Wendig."
– British Fantasy Society
Angry Robot, 9780857668011, 448pp.
Publication Date: September 4, 2018
About the Author
JAINE FENN studied linguistics and astronomy before becoming a full time writer. Her first book, Principles of Angels, started the Hidden Empire series of character-driven space opera novels. She won the BSFA Shorter Fiction Award, and now divides her time between original fiction, teaching creative writing, and writing for tabletop and video games. She lives in Devon.

jainefenn.com
facebook.com/JaineFenn
twitter.com/JaineFenn
or
Not Currently Available for Direct Purchase