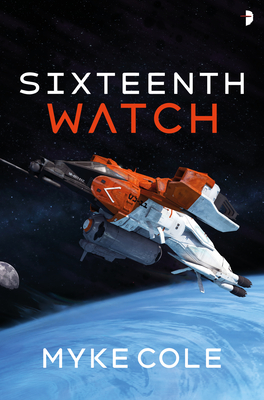 Sixteenth Watch
Paperback

* Individual store prices may vary.
Other Editions of This Title:
Digital Audiobook (3/9/2020)
Description
The Coast Guard must prevent the first lunar war in history.
A lifelong Search-and-Rescuewoman, Coast Guard Captain Jane Oliver is ready for a peaceful retirement. But when tragedy strikes, Oliver loses her husband and her plans for the future, and finds herself thrust into a role she's not prepared for. Suddenly at the helm of the Coast Guard's elite SAR-1 lunar unit, Oliver is the only woman who can prevent the first lunar war in history, a conflict that will surely consume not only the moon, but earth as well.
Praise For Sixteenth Watch…
"It's incredibly refreshing to find a sci-fl novel with a female protagonist who's a confident woman in her fifties… The author's experience in the Coast Guard lends a strong sense of verisimilitude to his portrayal of military operations, and his action scenes sizzle with the rush of adrenaline… Briskly paced, the book strikes a fine balance between military minutiae and imagination."
– SFX Magazine

"Cole leverages his real-life military background to create a believable depiction of conflict in space with an emphasis on authentic characters."
– Kirkus

"Cole weaves a fantasy world that feels comfortably familiar, then goes to places you'd never expect."
– Peter V. Brett, author of The Demon Cycle series

"Myke Cole's novels are like crack: they're highly addictive."
– Buzzfeed

"Myke Cole has raised the bar on military sci-fi. Sixteenth Watch pushes the envelope into new and exciting territory."
– Wesley Chu, New York Times Bestselling Author

"Sixteenth Watch has heart and action in equal measure; Cole's novel blends hi-speed, low-g military science fiction with engaging characters and page-turning pace."
– James Swallow, BAFTA-nominated scriptwriter 

"Hard sci-fi fans will appreciate this norm-bucking near-future military tale."
– Publishers Weekly 

"I loved Sixteenth Watch by Myke Cole. Besides being a ripping good read, Cole writes from a place of authority and experience about military, politics, and service."
– Rob Hart, author of The Warehouse

"Sixteenth Watch is one of those novels that you really want to see turned into a Netflix series so you can binge it and pour the whole thing into your brain."
– Starburst Magazine

"Sixteenth Watch follows Jane from her lowest, most heartbreaking moment, and readers will be drawn to her as she proves herself to be a smart, feisty, loyal, loving, complex, tough, and flawed heroine. "
– Booklist, starred review










Angry Robot, 9780857668059, 432pp.
Publication Date: March 10, 2020
About the Author
MYKE COLE is a devoted comic fan and voracious fantasy reader who never misses his weekly game night. His fandoms range from Star Wars to military history. He's a former kendo champion and heavy weapons fighter in the Society for Creative Anachronism. At the D&D table, he always plays paladins. After a career hunting people in the military, police, and intelligence services, Cole put these skills to good use on CBS's hit show Hunted, and on Discovery and Science Channel's show Contact. Myke is the author of The Sacred Throne Trilogy, which begins with The Armored Saint. He's also the author of the contemporary military fantasy Shadow Ops series, and its prequel Reawakening trilogy. His first work of nonfiction, the ancient military history Legion Versus Phalanx will be followed by The Bronze Lie in 2021. Myke lives in Brooklyn, New York.