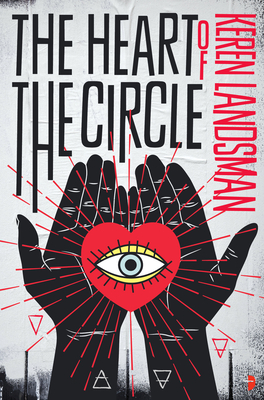 The Heart of the Circle (Paperback)
Angry Robot, 9780857668110, 400pp.
Publication Date: August 13, 2019
Other Editions of This Title:
Compact Disc (8/13/2019)
* Individual store prices may vary.
Description
Sorcerers fight for the right to exist and fall in love, in this extraordinary alternate world fantasy thriller by award-winning Israeli author Keren Landsman.

Throughout human history there have always been sorcerers, once idolised and now exploited for their powers. In Israel, the Sons of Simeon, a group of religious extremists, persecute sorcerers while the government turns a blind eye. After a march for equal rights ends in brutal murder, empath, moodifier and reluctant waiter Reed becomes the next target. While his sorcerous and normie friends seek out his future killers, Reed complicates everything by falling hopelessly in love. As the battle for survival grows ever more personal, can Reed protect himself and his friends as the Sons of Simeon close in around them?

File Under: Fantasy [ Love Squared | Stuck in the Margins | Emotional Injection | Fight the Power ]
About the Author
KEREN LANDSMAN is a mother, a writer, a medical doctor who specializes in Epidemiology and Public health, and a blogger. She is one of the founders of Mida'at, an NGO dedicated to promoting public health in Israel. She works in the Levinski clinic in Tel Aviv. She has won the Geffen Award three times, most recently for the short story collection Broken Skies.
Praise For The Heart of the Circle…
"Everything about The Heart of the Circle is fresh and bright and joyful, even the hard parts. It's beautifully, artistically, artfully written, and it's entirely worth your time."
– Seanan McGuire, New York Times bestselling author of October Daye and InCryptid

"The best speculative fiction pushes the boundaries of real life to make a point; Landsman's novel in which the members of a group are persecuted—and killed—for their differences as they are blamed for others' problems does just that in a masterful show of skill and understanding of the possibilities of the genre."
– Booklist

"A fascinating and original urban fantasy… Landsman demonstrates virtuoso writing ability, building a fascinating plot, an impressive combination of sources of inspiration and rare emotional depth."
– Israel Hayom

"An important step forward for the Israeli genre scene, and in its portrait of young people struggling with both their outsized emotions and an unjust situation, it delivers a powerful, engrossing story."
– Abigail Nussbaum, author of Asking the Wrong Questions

"Keren Landesman did not write a good book, she wrote an excellent book."
– Saloona

"Oh wow. Wow, this book. How am I supposed to write anything now?" 
- N.S. Dolkart, author of the GODSERFS trilogy

"A bold new voice in Israeli fantasy... an enchanting debut." 
– Lavie Tidhar, World Fantasy Award winning author of Osama and Central Station

"Landsman's novel is exceptionally paced and full of intriguing characters and concepts"
– Grimdark Magazine 

"unusual and compelling English-language debut."
– B&N Sci Fi & Fantasy Blog

"Themes of oppression, acceptance, and betrayal are explored in this gripping sf thriller."
– Library Journal