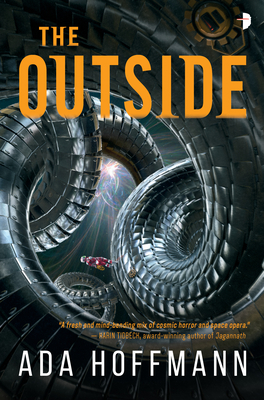 The Outside
Paperback

* Individual store prices may vary.
Other Editions of This Title:
Digital Audiobook (6/17/2019)
Description
Humanity's super-intelligent AI Gods brutally punish breaches in reality, as one young scientist discovers, in this intense and brilliant space opera.

Autistic scientist Yasira Shien has developed a radical new energy drive that could change the future of humanity. But when she activates it, reality warps, destroying the space station and everyone aboard. The AI Gods who rule the galaxy declare her work heretical, and Yasira is abducted by their agents. Instead of simply executing her, they offer mercy – if she'll help them hunt down a bigger target: her own mysterious, vanished mentor. With her homeworld's fate in the balance, Yasira must choose who to trust: the gods and their ruthless post-human angels, or the rebel scientist whose unorthodox mathematics could turn her world inside out. 

File Under: Science Fiction [ False Gods | Angel Inside | Autistic in Space | Here be Monsters ]
Praise For The Outside…
"The Outside is a beautiful, stark reclamation of unknowable horror. Hoffman layers thoughtful worldbuilding and rich prose to build a stunning story of power, ambition and personal agency. I couldn't put The Outside down for fear of what might happen while I was looking away."
– Sarah Gailey, Hugo Award-winning author of River of Teeth

"The Outside is a fresh and mind-bending mix of cosmic horror and space opera, a compelling story that spans from the deeply personal to the vast mysteries of time and space. Unsettling and gorgeous, this is like nothing I have read before and the book I have been longing for without knowing it."
– Karin Tidbeck, award-winning author of Amatka and Jagannath

"The Outside is spooky, high-stakes, mind-bending Science Fiction."
– Kelly Robson, Nebula Award-winning author
"The Outside
 is a powerful, striking debut, and Ada Hoffmann is an author to watch." 
- Bogi Takács
, Lambda award winner, Hugo and Locus award finalist
"Hoffmann has created a beautifully immersive world, an intoxicating blend of science and divinity that held me captive from page one."
- Caitlin Starling
, author of 
The Luminous Dead 


"A stunningly imagined novel!"
- Charles Payseur, 
Quick Sip Reviews
"The Outside starts with a bang and ratchets everything up from there,"
- Sarah Pinsker
, Nebula Award-winning author of 
Our Lady of the Open Road
"Hoffmann confidently layers morality and disability rights into a breezily told adventure that bursts with sheer fun."
- Publishers Weekly
"Ada Hoffmann's 
The Outside 
feels like it was made to order for us"
- Skiffy and Fanty blog
"Truly operatic stuff."
– B&N SciFi & Fantasy Blog
"
The Outside
 is a gripping examination of the battle between good and evil on a grand scale"
– the Guardian
"
The Outside
 is a science-fiction suspense novel like no other."
– B&N Sci Fi & Fantasy Blog
"The Outside is a definite mind-bender, serving up shock and awe from the start."
– Reviews and Robots
"Deeply embedded in sci-fi history, 
The Outside 
reimagines old stories in new, exciting, #ownvoices ways."
– 
Book Riot
"
The Outside 
is a fantastic debut. I can't wait to see what Hoffman does next."
– Locus
"exciting and gripping space opera"
– SyFy Wire


"Though Yasira, as the driving force behind the action, is sympathetic, readers who like an unlikable narrator will enjoy spending time in the other characters' points of view."
- Booklist
Angry Robot, 9780857668134, 400pp.
Publication Date: June 11, 2019
About the Author
ADA HOFFMANN is a Canadian graduate student trying to teach computers to write poetry. Her critically acclaimed speculative short stories and poems have appeared in Strange Horizons, Asimov's, Uncanny, and two year's best anthologies. Ada was diagnosed with Asperger syndrome at 13, and is passionate about autistic self-advocacy. She is a former semi-professional soprano, a tabletop gamer and an active LARPer, she lives in southern Ontario with a very polite black cat.


ada-hoffmann.com
twitter.com/xasymptote