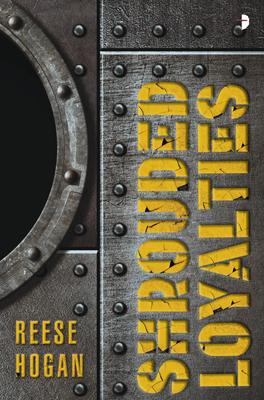 Shrouded Loyalties
Paperback

* Individual store prices may vary.
Description
A soldier returns home with a dangerous secret from an alternate realm, unaware that she is surrounded by spies and collaborators, in this intense military science fiction novel.

Naval officer Mila Blackwood is determined to keep her country's most powerful secret – shrouding, the ability to traverse their planet in seconds through an alternate realm – out of enemy hands. But spies are everywhere: her submarine has been infiltrated by a Dhavnak agent, and her teenage brother has been seduced by an enemy soldier. When Blackwood's submarine is attacked by a monster, she and fellow sailor, Holland, are marked with special abilities, whose manifestations could end the war – but in whose favor? Forced to submit to military scientists in her paranoid and war-torn home, Blackwood soon learns that the only people she can trust might also be the enemy.

File Under: Science Fiction [ Enemy Within | Periscope Down | Gods and Monsters | Lightning Strikes Twice ]
Praise For Shrouded Loyalties…
"Hogan writes with tangible energy, capturing the trials of divided loyalties in the midst of global war... Fans of military SF will enjoy Hogan's fresh take on the genre."
– Publishers Weekly

"Loyalty, honor, and a dangerous new technology all come together in this unique world filled with intrigue and action."
– Maria V. Snyder, New York Times bestselling author of Poison Study

"Packed with inventive worldbuilding, this one offers a decidedly different take on military SF."
—B&N Sci-Fi & Fantasy Blog

"Constantly competing levels of deception and espionage all juggled at once, and somehow simultaneously packed to the brim with non-stop action and terrifying escalations."
—Nathan Makaryk, author of Nottingham

"I definitely recommend this book to anyone who's ever wished Das Boot had encountered Cthulhu." 
—Wendy Trimboli, author of The Resurrectionist of Caligo

"Military conflict, spy thriller intensity, and mindblowing revelations… Shrouded Loyalties stands out above the rest"
– Reviews and Robots
Angry Robot, 9780857668295, 320pp.
Publication Date: August 13, 2019
About the Author
REESE HOGAN loves nothing more than creating broken relationships in broken worlds. With a Bachelor's degree in English and a minor in journalism, Hogan has spent the last twenty years honing her craft by taking classes, listening to podcasts, and attending writing workshops and critique groups. She is passionate about music, especially alternative and punk rock, and adamantly believes that art can reach out in a way no other form of communication can. She lives with her family in New Mexico.

http://www.reesehogan.com/
https://twitter.com/ReeseHogan1