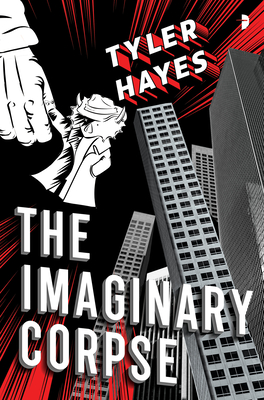 The Imaginary Corpse
Paperback

* Individual store prices may vary.
Other Editions of This Title:
Digital Audiobook (12/2/2019)
Description
A dinosaur detective in the land of unwanted ideas battles trauma, anxiety, and the first serial killer of imaginary friends.

Most ideas fade away when we're done with them. Some we love enough to become Real. But what about the ones we love, and walk away from? 
Tippy the triceratops was once a little girl's imaginary friend, a dinosaur detective who could help her make sense of the world. But when her father died, Tippy fell into the Stillreal, the underbelly of the Imagination, where discarded ideas go when they're too Real to disappear. Now, he passes time doing detective work for other unwanted ideas – until Tippy runs into The Man in the Coat, a nightmare monster who can do the impossible: kill an idea permanently. Now Tippy must overcome his own trauma and solve the case, before there's nothing left but imaginary corpses. 

File Unders: Fantasy [ Fuzzy Fiends | Death to Imagination | Hardboiled but Sweet | Not Barney ]
Praise For The Imaginary Corpse…
"Hayes's debut is an affectionate, lightly mocking homage to noir tales… A strong psychological thread weaves through the story as characters confront the trauma of being imaginary and forgotten, adding depth to what at first may seem a silly concept. Readers will revel in this strange, fully realized world."
– Publishers Weekly

"The Imaginary Corpse is one of the best detective noir stories I've read in a long time. It just happens to be about a plush triceratops whose best friends are a disembodied hand and a four-color superheroine… it's elegant, beautifully constructed, innovative, and true. It's Real. Tippy is going to be Real for a lot of people, and that's a magical thing for a yellow plush triceratops."
– Seanan McGuire, New York Times bestselling author of October Daye and InCryptid

"A wholly original take on the lands of make-believe from a captivating new voice in the genre. Hayes takes the reader on a journey to the heart of themselves, reminding them of all that was lost and all that can never be forgotten. A book as comforting and as cathartic as your first knocked-out tooth."
– Meg Elison, Philip K. Dick Award-winning author of The Book of the Unnamed Midwife

"This reminds me of Jonathan Lethem's Gun, with Occasional Music, plus the Brian Aldiss-inspired first act of AI, with splashes of Philip K. Dick and Haruki Murakami."
– Library Journal

"Brilliantly playful and deadly serious at the same time, often in the same sentence. Hayes knows the secret of world creation, building a new reality detail by detail, all of it ringing true even when outrageously absurd. A nightmare in day-glo colours, populated by outcasts and outlaws, private eyes and forgotten toys."
– Jeff Noon, author of  The Body Library,  shortlisted for the Philip K Dick Award

"Hayes nails that tone in the midst of what may be 2019's weirdest premise… the most unusual SFF-mystery mashup you'll read this year."
– B&N Sci Fi & Fantasy Blog

"Combining detective noir, Toy Story, and an in-depth look at trauma, Hayes has crafted the most unlikely formula and makes it sing. The Imaginary Corpse is inventive, fun, and touching, in the most unexpected way. The world – real and imaginary – needs more triceratops detectives." 
– Mike Chen, author of Here and Now and Then

"This is detective noir shot through with technicolor playfulness the likes of which I haven't seen since Who Framed Roger Rabbit. It's pure imagination on multiple axes – with a ton of heart."
– Alex Wells, author of Hunger Makes the Wolf

"This book is messed up in all the right ways. It's as if Pixar's Inside Out mugged Toy Story in a surrealist Raymond Chandler novel. Weird, fun, scary, and a great mystery to boot. Hayes sticks the landing."
—Jennifer Brozek, Author of Never Let Me Sleep and The Last Days of Salton Academy.

"An immensely creative, bittersweet sugar rush of a fantasy-noir novel: Who Framed Roger Rabbit meets Paranoia Agent with a touch of creepy-cute Coraline atmosphere... I heartily recommend The Imaginary Corpse to any reader seeking a delightfully different book."
– Wendy Trimboli, author of The Resurrectionist of Caligo

"For adults who want to recapture some of their youthful imaginings, while reading an excellent book about trauma, forgiveness, and acceptance, The Imaginary Corpse will definitely fill that niche."
– Mad Scientist Journal
Angry Robot, 9780857668318, 312pp.
Publication Date: September 10, 2019
About the Author
TYLER HAYES is a science fiction and fantasy writer from Northern California. He writes stories he hopes will show people that not only are we not alone in this terrifying world, but we might just make things better. His fiction has appeared online and in print in anthologies from Alliteration Ink, Graveside Tales, and Aetherwatch. The Imaginary Corpse is Tyler's debut novel.

tyler-hayes.com
twitter.com/the_real_tyler