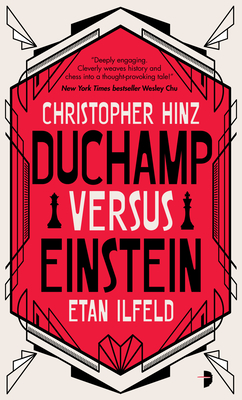 Duchamp Versus Einstein (Paperback)
Angry Robot, 9780857668349, 100pp.
Publication Date: October 8, 2019
* Individual store prices may vary.
Description
"Deeply engaging, and cleverly weaves history and chess into a thought provoking tale!" 
– New York Times bestseller Wesley Chu

"A luminous game of chess between art and science that is played across the page with lethal precision." – John W. Campbell Award-winning Lavie Tidhar


Inspired by Marcel Duchamp's archived letters, Duchamp versus Einstein is a science fiction novelette spanning some of the most monumental events of the 20th century, and bringing together two of the most transformative figures of the era in art and science for a surreal chess match that could reshape history.

File Under: Science Fiction [ First Encounters | Dada | Manhattan Project | Endgame ]
About the Author
CHRISTOPHER HINZ is the author of five science fiction books. Liege-Killer won the Compton Crook Award for best first novel and was nominated for the John W. Campbell Award for best new writer. He has written screenplays and a graphic novel, scripted comics for DC and Marvel, and has worked as a newspaper reporter and technical administrator of a small TV station.

ETAN ILFELD is the author of Beyond Contemporary Art and holds a physics degree from Stanford University. He is a US chess master and the inventor of Diving Chess where each player can think for as long as they can hold their breath. Ilfeld is the founder of Tenderpixel gallery, Tenderbooks, Repeater Books, and the managing director of Watkins Books and the Mind Sports Olympiad.
Praise For Duchamp Versus Einstein…
"Deeply engaging, and cleverly weaves history and chess into a thought provoking tale!"
– Wesley Chu, John W. Campbell Award-winning author of The Lives of Tao

"A luminous game of chess between art and science that is played across the page with lethal precision."
– Lavie Tidhar, John W. Campbell Award-winning author of Central Station
 
"A thought-provoking read, and at the same time an expansion of chess endgame theory! Only Einstein could save an endgame with just a king against king and queen!"
– Matthew Sadler, English Chess Grandmaster and British Chess Champion

"You think you're familiar with the biographies of Albert and Marcel? Duchamp Versus Einstein is full of surprises, bringing these two fascinating intellects together around a chess board at a pivotal moment for mankind. A very engaging tale."
– Christopher Slaney, author of Age of Sail


PRAISE FOR THE AUTHOR, CHRISTOPHER HINZ

"This is a fast-paced future thriller that delivers on the promise of its high-concept premise."
– The B&N Sci-Fi & Fantasy Blog

"This is, genuinely, a good book that appeals to my love of sci-fi, intelligent characters and puns."
– Purple Owl Reviews

"You'll want to hang in there for the entirety of the ride."
– Strange Alliances

"Fast-paced action, with political intrigue, and spy-craft-like war make for a book that thrills and excites in equal measure."
– Morpheus Tales

"Highly engrossing and fascinating."
– Manhattan Book Review

"There is enough futuristic fighting to keep action fans happy. Hinz delivers the action in a fluid writing style that makes Binary Storm easy to read."
– Tzer Island

"I've come away a fan of the author and the series."
– Looking for a Good Book

"[Liege-Killer is] a genuine page-turner, beautifully written and exciting from start to finish… Hinz presents this material with the assurance of classic sf and the vividness of the new masters… Don't miss it."
– Locus

"Liege-Killer moves along at a brisk clip, providing one action-filled scene after another. Hinz writes with skill and verve. His world is logical and alive, and he peoples it with credible and compelling characters."
– San Francisco Chronicle


"A luminous game of chess between art and science that is played across the page with lethal precision." 
– John W. Campbell Award-winning Lavie Tidhar