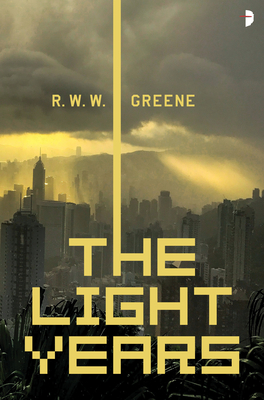 The Light Years
Paperback

* Individual store prices may vary.
Description
A long-lost battleship and an arranged marriage may hold the key to faster-than-light travel and humanity's future in R.W.W. Greene's debut The Light Years

Hisako Saski was born with her life already mapped out. In exchange for an education, better housing for her family, and a boost out of poverty, she's been contracted into an arranged marriage to Adem Sadiq, a maintenance engineer and amateur musician who works and lives aboard his family's sub-light freighter, the Hajj. 

Hisako is not happy with the deal. The arcane branch of physics it requires her to study broke off a thousand years before, and she is not keen on the idea of giving up everything she knows to marry a stranger and move onto an aging spaceship. 

Onboard the Hajj, Hisako soon learns her dilemmas are overshadowed by the discovery of ancient secrets, a derelict warship, and a chance at giving the survivors of Earth a fresh start.

File Under: Science Fiction [ E=mc2 | Happy wife, Happy life | Marital Bliss | Light Years Away ]
Praise For The Light Years…
"The Light Years is one of best novels about the psychological challenges of relativity I've ever read.  This is what science fiction was invented for!"
– James Patrick Kelly, winner of the Hugo, Nebula and Locus awards.

"Love in the time of relativity. Greene paints a picture of the social complexities of the lightspeed era, with realistic characters navigating interstellar intrigue."
– Dan Moren, author of The Bayern Agenda

"Laced with politics, science, history, poetry, music, greed, hope, and a little Johnny Cash, this character-rich space opera has a well-developed and believable plot that kept me reading from the opening line to the surprising and satisfying end."
– Kelly Stone Gamble USA Today best-selling author of They Call Me Crazy

"The Light Years is a thought-provoking debut from a skilled writer." 
– E. C. Ambrose, author of The Dark Apostle series.

"The toll difficult moral choices take on families is the core conflict of this clever far-future debut from Greene… Sophisticated worldbuilding and diverse, emotionally-resonant characters make Greene an author to watch."
– Publishers Weekly

"The main characters are distinctive, Greene's dialogue lively and the prose vivid."
– SFX Magazine

"On the surface, you get an engrossing space opera, but if you look deeper you will find explorations of poverty, arranged marriage, and the toll that difficult moral choices take on families."
– Kirkus Reviews

"A tense and moody ride-along on a merchant starship with a corporate family in a far future where being an honest trader is a liability and marriage is about adding a needed skill to the crew, willing or no.  But there is always light to be found in the darkness and great discoveries lurk in unexpected places." 
- Marjorie B. Kellogg, author of GLIMMER











Angry Robot, 9780857668363, 400pp.
Publication Date: February 11, 2020
About the Author
R.W.W. Greene is a New Hampshire USA writer with an MA in Fine Arts, which he exorcises in dive bars and coffee shops. He is a frequent panelist at the Boskone Science Fiction and Fantasy Convention in Boston, and his work has been in Stupefying Stories, Daily Science Fiction, New Myths, and Jersey Devil Press, among others. Greene is a past board member of the New Hampshire Writers' Project. He keeps bees, collects typewriters, and lives with writer/artist spouse Brenda and two cats.
or
Not Currently Available for Direct Purchase