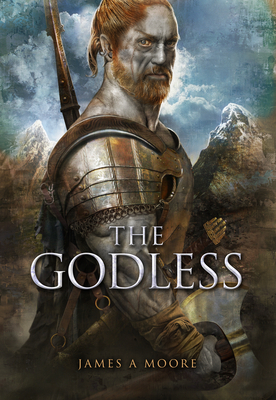 The Godless
Seven Forges, Book V
Paperback

* Individual store prices may vary.
Description
The eagerly anticipated fifth book in the Seven Forges series

The long war with the Sa'ba Taalor has ended, but the land of Fellein does not know peace - only ceaseless change.A spate of murders draw the interest of Darsken Murdrow of the Inquisition, until the hunter becomes the hunted. Andover Lashk of the Iron Hands seeks a home in a world in which he no longer fits. An unholy necromancer steals souls, makes sacrifices, and sows fear.And in the barren wastelands of the Wellish Steppes, the army of the Godless gathers. Driven from their homeland, abandoned by their deities, the Godless now follow the banner of a new Master, and are thirsty for blood.

File Under: Fantasy [ Forever War | Godforsaken | Expect the Inquisition | Fist of Iron ]
Praise For The Godless: Seven Forges, Book V…
PRAISE FOR JAMES A. MOORE

"Fantasy does not get much better than this."
- Morpheus Tales

"James A. Moore keeps getting better. The cast of characters expands.  Moore juggles them with ease, giving each one some background so that they don't all run together. And the battle scenes, whether it's individual combat or armies clashing, are riveting.  Plus the intrigue keeps on getting more complex. This is one is highly recommended."
– Adventures Fantastic

"The prose is sharp, the pace wonderfully timed with great action tempered with some wonderful lulls to allow you to get your breath back. Back this up with some great characters alongside a world that is delightfully designed all round makes this a series that continues to go from strength to strength. Finally, and this is the clincher for me, Moore gives the characters a depth with their dialogue that not only shows their devotions but also gives them a roundedness that allows you to become fully immersed. Cracking."
– Falcata Times

"I need more stories set in this world. Please indulge me, Mr Moore."
– Fantasy Book Review

"A strong instalment with no shortage of action."
– The Speculative Herald

"I love this series, I will not lie about it. It has ALL the things that make a great fantasy read."
– Shelf Inflicted
Angry Robot, 9780857668424, 400pp.
Publication Date: September 28, 2021
About the Author
JAMES A MOORE is the award-winning, bestselling author of over forty novels, thrillers, dark fantasy and horror alike, including the critically acclaimed Fireworks, Under the Overtree, Blood Red, the Serenity Falls trilogy and his most recent Seven Forges series. Along with Jonathan Maberry and Christopher Golden, he hosts the popular Three Guys With Beards podcast.