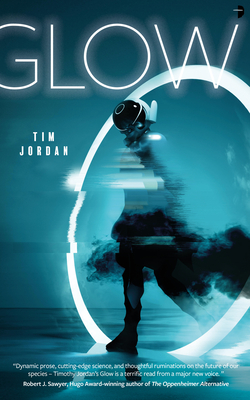 Glow
Paperback

* Individual store prices may vary.
Description
A man battles his addiction to a devastating nanotech drug that steals identities and threatens the survival and succession of mankind as a galactic species.

After the Nova-Insanity shattered Earth's civilization, the Genes and Fullerenes Corporation promised to bring humanity back from the brink. Many years later, various factions have formed, challenging their savior and vying for a share of power and control.

Glow follows the lives of three very different beings, all wrestling mental instability in various forms; Rex – a confused junkie battling multiple voices in his head; Ellayna – the founder of the GFC living on an orbital satellite station and struggling with paranoia; and Jett – a virtually unstoppable robotic assassin, questioning his purpose of creation. 

All of them are inextricably linked through the capricious and volatile Glow; an all controlling nano-tech drug that has the ability to live on through multiple hosts, cutting and pasting memories and personas in each new victim.

In this tech-crazed world where nothing seems impossible, many questions are posed: what makes us who we are? What is our ultimate purpose and place in this world? And, most frightening of all, what are we capable of doing to survive?

File Under:  Science Fiction [ Hivemind | One More Fix | No Escape | Run Like Hell ]
Praise For Glow…
"Reminiscent of the best space opera mixed with the gritty, violent dystopia of cyberpunk. Recommended for fans of Alastair Reynolds and William Gibson."
- Booklist

"Tim Jordan's Glow is a terrific read from a major new voice. A first-rate novel; I was enthralled."
– Robert J. Sawyer, Hugo Award-winning author of The Oppenheimer Alternative

"A deftly written debut jewel of cyberpunk."
– Terry Madden, Award-winning author of the Three Wells of the Sea series

"Running beneath the violent tangle of identity and memory is a fascinating exploration of how people cope – or fail to – with adversity."
– Publishers Weekly

"In this debut novel, Tim Jordan has created a rich world...It's a great story that does an interesting job of not cheating a lot on the science side."
– Amazing Stories
Angry Robot, 9780857668431, 400pp.
Publication Date: February 23, 2021
About the Author
Tim is an award-winning scifi writer from England, who now calls Florida home. Glow is his first published novel, but others exist stored as tiny magnetic bubbles or locked in charge reservoirs by arrays of transistors. He loves to hike, play guitar and draw terrible pictures. He also writes software and is particularly fascinated by artificial intelligence and hopes to one day create an artificial mind that will replace him and do all his work.