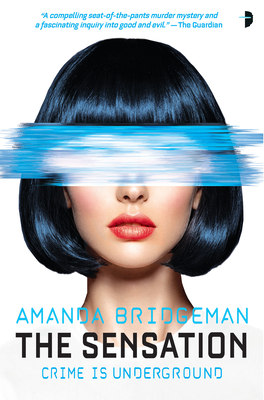 The Sensation
The Salvation Series, Book II
Paperback

* Individual store prices may vary.
Description
Last time she investigated the saints of the Solme Complex. This time it's the sinners of the Sensation... Presenting the second Salvi Brentt novel from award-winning author, Amanda Bridgeman.

A series of brutal murders has the homicide division of San Francisco's Hub 9 working overtime. But as the bodies mount, they begin to question whether the attacks are random or somehow connected.

When one of their own falls victim, Detective Salvi Brentt and the Hub 9 homicide team join forces with the narcotics and cyber divisions to track down those responsible. They soon discover a volatile new drug-tech experience, involving black market neural implants, has hit the streets, causing the epidemic of violence and missing persons.

With the clock ticking and the bodies piling up, Salvi must go deep undercover in the seedy Sensation club scene to find out who is behind it. But in the secretive playgrounds of the rich and powerful, some will stop at nothing to protect their empire...

File Under: Science Fiction [ Electrical High | Rich vs All | Deathly Addiction | If You Go Down to the Woods… ]
Praise For The Sensation: The Salvation Series, Book II…
"The Subjugate is a compelling seat-of-the-pants murder mystery and a fascinating inquiry into good and evil and the possibility of redemption."
– The Guardian

"If you yearn for the coke and club scene of the 80s, with a side order of crack cocaine and a bit of post futurism, you'll love The Sensation."
– Amazing Stories


PRAISE FOR AMANDA BRIDGEMAN

"This hard-boiled near-future SF thriller moves quickly and presents some thought-provoking ideas."
– Kirkus Reviews

"Part traditional police procedural, part exploration of redemption and the possibility of change, The Subjugate cleverly and apparently effortlessly builds a future world that is both engaging and utterly terrifying."
– Kaaron Warren, award-winning author of The Grief Hole and Tide of Stone

"An intelligent, believable future wrapped around an intriguing mystery."
– Kylie Chan, bestselling author of the Dark Heavens trilogy

"The Wire meets Blade Runner in this enthralling near-future crime thriller."
– Nathan M Farrugia, USA Today bestseller

"An old school whodunit set in a frighteningly near future."
– Luke Preston, screenwriter and author of Out of Exile

"This new book combines convincing near-future forecasting with great characters and a police-procedural murder mystery with some neat twists and turns to achieve full page-turner status—all without sacrificing intelligence for thrills.
– Locus

"Extraordinarily well-written and tense as hell towards the end, The Subjugate is a novel that will stay with me for some time. Reminiscent of films as diverse as Blade Runner and Witness, Amanda Bridgeman's murder mystery had me guessing right up until the end." 4.5 / 5
– Pop Culture Bandit

"Great book with a very interesting idea about how criminals could be 'saved' and integrated back into society. Really enjoyed reading about the criminal side of things and would love for a book to be made about the running of the Solme Complex."
– Lozzi's Book Reviews

"The Subjugate was an enjoyable read that blends a number of different genres really well; it's perfect for fans of science fiction, dystopian, fantasy, or crime thrillers."
– Read and Review

"I loved reading this, and I think you should check it out if you get the chance. If you love detective novels and serial killers set in the future, you're going to love this one."
– Radioactive Book Reviews

"Bridgeman's writing style sucked me in and didn't let me go until the final page. There's brilliant pacing here, with so many possible suspects and motives that the reader becomes a detective. The conversations were thought-provoking, the conflicts were riveting, and overall, it was eminently entertaining."
– Reviews and Robots



Angry Robot, 9780857668561, 400pp.
Publication Date: October 13, 2020
About the Author
AMANDA BRIDGEMAN is a Tin Duck Award winner, an Aurealis and Ditmar Awards finalist, and the author of several science fiction novels, including the bestselling space opera/military SF Aurora series, alien contact drama The Time of the Stripes, and sci-fi crime thriller The Subjugate.
or
Not Currently Available for Direct Purchase