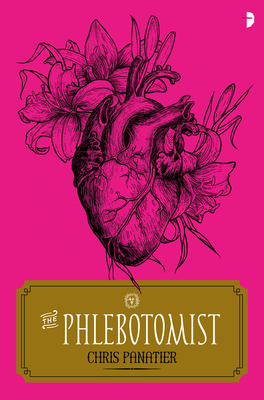 The Phlebotomist
Paperback

* Individual store prices may vary.
Description
In a near future where citizens are subject to the mandatory blood draw, government phlebotomist Willa Wallace witnesses an event that makes her question her whole world...

To recover from a cataclysmic war, the Harvest was instituted to pass blood to those affected by radiation. But this charitable act has led to a society segregated entirely by blood type. Government blood contractor, Patriot, rewards your generous gift based on the compatibility of your donation, meaning that whoever can give the most, gets the most in return.

While working as a reaper taking collections for the Harvest, Willa chances upon an idea to resurrect an obsolete technique that could rebalance the city. But in her quest to set things into motion, she uncovers a horrifying secret that cuts to the heart of everything.

File Under: Dystopia [ Blood Will Out | This Might Hurt a Bit | Be positive | Bloody Nightmare ]
Praise For The Phlebotomist…
"A clever, inventive fantasy with a horrific twist that explores whether we are more than the sum of our parts."
– Tal Klein, author of The Punch Escrow

"exciting and genre-challenging debut"
–  R.W.W. Greene author of The Light Years

"This is a layered, post-apocalyptic book you won't escape from easily, and one which left me genuinely squirming in my seat." 
– Gemma Amor, Bram Stoker Award nominated author of  Dear Laura and White Pines 

"A compelling dystopian thriller that presents a fallen world and proceeds to dissect it with sanguine enthusiasm using its refreshingly unconventional heroes."
– Indrapramit Das, author of The Devourers

"equal parts fascinating and horrifying, and never not entertaining."
– Dan Hanks, author of Captain Moxley and the Embers of the Empire.

"this book will take root at the base of your brain, threading its tentacles into your spinal cord and requiring you to keep turning pages until the bloody end." 
– Jessica Hagemann, Headcheese

"Chris Panatier knocks it out of the park with The Phlebotomist. A post-apocalyptic science fiction novel that–for once–doesn't include a love triangle, a trio of moody teens, or zombies. Amazing, right?"
– Sci Fi & Scary
Angry Robot, 9780857668615, 344pp.
Publication Date: September 8, 2020
About the Author
Chris Panatier lives in Dallas, Texas, with his wife, daughter, and a fluctuating herd of animals resembling dogs (one is almost certainly a goat). He writes short stories and novels, "plays" the drums, and draws album covers for metal bands. Plays himself on twitter @chrisjpanatier.