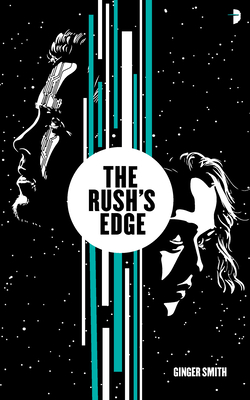 The Rush's Edge
Paperback

* Individual store prices may vary.
Description
With the help of his commanding officer, a genetically engineered ex-soldier fights back against the government that created him and others like him to be expendable slaves...

Halvor Cullen, a genetically-engineered and technology implanted ex-soldier, doesn't see himself as a hero. After getting out of the service, all he's interested in is chasing the adrenaline rush his body was designed to crave. Hal knows he won't live long anyway; vat soldiers like him are designed to die early or will be burnt out from relentlessly seeking the rush. His best friend and former CO, Tyce, is determined not to let that happen and distracts him by work salvaging crashed ships in the Edge.

Then Hal's ship gets a new crewmember - a hacker-turned-tecker named Vivi. As they become friends, Hal wonders if he's got a chance with a natural-born like her. Then on a job, the crew finds a sphere that downloads an alien presence into their ship...

Multiple clashes with the military force Hal and his crew to choose sides. The battle they fight will determine the fate of vats and natural-borns throughout the galaxy. Will they join the movement against the Coalition? What has invaded their ship's computer? And can there be a real future for a vat with an expiration date?

File Under: Science Fiction [ Toy Soldier | On the Brink | Against the Odds | Stars are Crossed ]
Praise For The Rush's Edge…
"Vivid characters, fine action sequences, and thoughtful exploration of prejudices are blended with authority in Smith's debut."
– Booklist

"Smith's debut is rich in detail, full of tension, and packed with characters you won't easily forget."
– R.W.W. Greene, author of  The Light Years

"The Rush's Edge gives you all the Firefly feels with a dash of Mass Effect for the hell of it. Fantastically entertaining."  
– Dan Hanks, author of Captain Moxley and the Embers of the Empire

"You will root for these heroes and cringe at the evil that brought them together." 
– Chris Panatier, author of The Phlebotomist  

"We're treated to an array of space dogfights, cyborg assassins, and straight-up street brawls to keep the pages turning well past bedtime."
– John P. Murphy, author of Red Noise

"well-crafted space opera."
– Publishers Weekly  

"A sci-fi saga with equal doses of action, thrills and heart." - Amanda Bridgeman, author of The Subjugate
Angry Robot, 9780857668646, 328pp.
Publication Date: November 10, 2020
About the Author
Ginger Smith has worked as a record store employee, freelance writer, bookstore assistant manager and high school teacher of English. In the past, she has played in many tabletop RPG groups and even run several of her own. She collects vintage toys, sci-fi novels and comic books, as well as mid-century furniture. She currently lives in the southern USA with her husband and two cats, spending her free time writing and watching classic film noir and sci-fi movies.