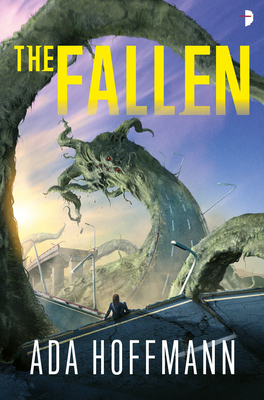 The Fallen
Paperback

* Individual store prices may vary.
Description
From the immersive and intoxicating world of The Outside, comes the exhilarating sequel from Philip K Dick and Compton Crook Award-nominated author, Ada Hoffmann.

The laws of physics acting on the planet of Jai have been forever upended; its surface completely altered, and its inhabitants permanently changed, causing chaos. Fearing heresy, the artificially intelligent Gods that once ruled the galaxy became the planet's jailers. 
 
Tiv Hunt, who once trusted these Gods completely, spends her days helping the last remaining survivors of Jai. Everyone is fighting for their freedom and they call out for drastic action from their saviour, Tiv's girlfriend Yasira. But Yasira has become deeply ill, debilitated by her Outside exposure, and is barely able to breathe, let alone lead a revolution.
 
Hunted by the Gods and Akavi, the disgraced angel, Yasira and Tiv must delve further than ever before into the maddening mysteries of their fractured planet in order to save – or perhaps even destroy – their fading world.

File Under: Science Fiction [ More False Gods | Inside Out | Freedom Fighters | Angels or Demons ]
Praise For The Fallen…
"Fast-paced adventure and intricate double-crosses sweep through Hoffmann's magnificent sequel to The Outside… This eerie, beautiful vision of collective action draws equally from Warhammer 40,000; cosmic horror; and the work of Becky Chambers to create a unique, nuanced must-read."
– Publishers Weekly, starred review

"In The Fallen, the effects of everything that happened in The Outside are playing out as various people struggle with where they should go next, and how they should support one another. The worldbuilding continues fascinating and compelling. The Fallen is a complex, nuanced book which engages thoughtfully with the costs, consequences, and decisions around resistance and rebuilding."
– Juliet Kemp, author of The Deep and Shining Dark

"After the shattering events of The Outside, The Fallen takes a look at what it means for something to be truly changed. Splintered and fragmented. The characters have been fundamentally altered, and the novel does a beautiful job of showing how and, more importantly, what the characters are going to do about it. To reveal that they aren't the broken ones, but rather need to tear down the old rules, the old limitations, to create something that might finally be just. It's a complex and intricately woven tale of people finding and building community and being vulnerable to the right people in order to be unstoppable together. A sweeping sequel that builds on the first book and leaves me hungry for more!"
– Charles Payseur, Hugo-nominated author of Quick Sip Reviews

"The forces of chaos have been set loose – but what comes next? The Fallen explores solidarity and cooperation in extreme situations with thoughtfulness and poise, weaving together a breathtaking array of themes from cosmic horror to superpowers. Ada Hoffmann's second novel brings action, excitement, and kindness surfacing in the strangest places. It warmed my tentacular heart!"
– Bogi Takács, Hugo and Lambda Award-winning author and editor

"I thoroughly recommend The Fallen.  It is filled with crisp, precise prose, a compelling and timely story, and believable characters dealing with the inexplicable, horrifying circumstances in which they find themselves.  Stunning, strange and unsettling, The Fallen delves deep into the question of how to deal with unknowable horrors; how to help people who need your aid when it seems that every option will lead to harm; how to save the world when you are not even sure you can save yourself."
–  Hester J. Rook, editor of Twisted Moon

"The Fallen is a novel that is interested in the nature of resistance to hegemony, in community, in connections between people. It asks questions about the need for violence in resisting violence, about the problems of power, about truth and lies, history and propaganda… Roll on the next sequel!"
– Locus


FURTHER PRAISE FOR ADA HOFFMANN

"Hoffmann confidently layers morality and disability rights into a breezily told adventure that bursts with sheer fun."
– Publishers Weekly

"The Outside is a gripping examination of the battle between good and evil on a grand scale."
– the Guardian

"Deeply embedded in sci-fi history, The Outside reimagines old stories in new, exciting, #ownvoices ways."
– Book Riot

"The narrative ramps up the suspense all the way to the climax. It's a strikingly effective one, full of high stakes and high emotions, with a satisfying conclusion and room for more stories to come. Compellingly written, tense, and thrilling, with fascinating (and weird) worldbuilding and brilliant characters, The Outside is a fantastic debut. I can't wait to see what Hoffman does next."
– Locus

"Hoffmann's debut is starkly original, and tinged with hints of horror fantasy – truly operatic stuff."
– B&N SciFi & Fantasy Blog

"The Outside is a beautiful, stark reclamation of unknowable horror. Hoffman layers thoughtful worldbuilding and rich prose to build a stunning story of power, ambition and personal agency. I couldn't put The Outside down for fear of what might happen while I was looking away."
– Sarah Gailey, Hugo Award-winning author of River of Teeth

"The Outside is a fresh and mind-bending mix of cosmic horror and space opera, a compelling story that spans from the deeply personal to the vast mysteries of time and space. Unsettling and gorgeous, this is like nothing I have read before and the book I have been longing for without knowing it."
– Karin Tidbeck, award-winning author of Amatka and Jagannath

"The Outside is spooky, high-stakes, mind-bending Science Fiction."
– Kelly Robson, Nebula Award-winning author

"The Outside combines science and magic into a terrifyingly coherent whole. Yasira's quest reaches beyond the limits of human minds, and Hoffmann takes us all the way there, with paradoxical precision. The Outside tackles themes of neuroatypicality, teacher-student relationships and artificial intelligence with subtlety and grace, expanding the boundaries of cosmic horror. The Outside is a powerful, striking debut, and Ada Hoffmann is an author to watch – especially if you enjoy the boundaries of your reality insistently chewed by insectile shapes."
– Bogi Takács, Lambda award winner, Hugo and Locus award finalist

"Hoffmann has created a beautifully immersive world, an intoxicating blend of science and divinity that held me captive from page one. Come for the cosmic horror, stay for the nuanced exploration of the nature of individuality, the soul, and the relationships that tie us together." 
– Caitlin Starling, author of The Luminous Dead 

"A stunningly imagined novel! Hoffmann takes on the idea of vast, apathetic, cosmic horrors and then makes the most powerful force in the universe...compassion. The prose marries fast-paced action with intricate relationships and a mixture of religion, technology, and diversity that's unlike anything I've come across before. It's weird in all the best ways, filled with memorable characters and a sweeping plot that's part mystery, part horror, and all heart."
Quick Sip Reviews

"The Outside starts with a bang and ratchets everything up from there, giving us gods, angels, machines, mayhem, casual queerness, delicious ambiguities, and note-perfect character moments."
– Sarah Pinsker, Nebula Award-winning author of Our Lady of the Open Road

"With a boffo combination of hard science fiction, cosmic Lovecraftian horror, both cyber-and-god-punk, some ridiculously charismatic aliens, and a fascinating female protagonist somewhere on the autism spectrum, Ada Hoffmann's The Outside feels like it was made to order for us"
– Skiffy and Fanty blog

"The Outside is a definite mind-bender, serving up shock and awe from the start."
– Reviews and Robots
Angry Robot, 9780857668684, 368pp.
Publication Date: July 13, 2021
About the Author
Ada Hoffmann is the author of the space opera novel The Outside, as well as dozens of speculative short stories and poems. Ada's work has been a finalist for the Philip K. Dick Award, the Compton Crook Award, and the WSFA Small Press Award, among others. She is also the author of the Autistic Book Party review series, devoted to in-depth #ownvoices discussions of autism representation in speculative fiction.
Ada is an adjunct professor of computer science, as well as a former semi-professional soprano, tabletop gaming enthusiast, and LARPer. She lives in eastern Ontario.