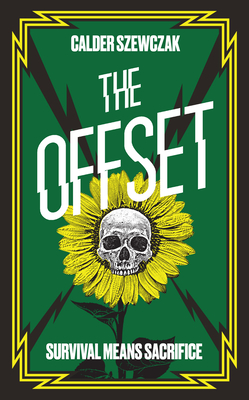 The Offset
Paperback

* Individual store prices may vary.
Description
It is your eighteenth birthday and one of your parents must die. You are the one who decides. Who do you pick?

In a dying world, the Offset ceremony has been introduced to counteract and discourage procreation. It is a rule that is simultaneously accepted, celebrated and abhorred. But in this world, survival demands sacrifice so for every birth, there must be a death.

Professor Jac Boltanski is leading Project Salix, a ground-breaking new mission to save the world by replanting radioactive Greenland with genetically-modified willow trees. But things aren't working out and there are discrepancies in the data. Has someone intervened to sabotage her life's work?
 
In the meantime, her daughter Miri, an anti-natalist, has run away from home. Days before their Offset ceremony where one of her mothers must be sentenced to death, she is brought back against her will following a run-in with the law. Which parent will Miri pick to die: the one she loves, or the one she hates who is working to save the world?

File Under: Science Fiction [ Only One Leaves | The Choice is Yours | Last Hope | Counting Down ]
Praise For The Offset…
"Thrilling, terrifying and beautifully crafted, The Offset is the perfect science-fiction novel for our times. I devoured it."
– Angela Saini, author of Inferior

"Smart, compelling and absolutely of the moment. A truly elegant debut."
– Luke Jennings, author of the Killing Eve series

"A powerfully told debut" 
– SFX Magazine

"An honest, terrifying and sincere look into our future." 
– Keren Landsman, Geffen Award-winning author of The Heart of the Circle

"These co-writers have produced a vision of a blighted world where everyone has to make sacrifices for the greater good, personal happiness being the first thing to go."
– Financial Times

"The Offset's searing critique of anti-natalism could do for eco-fascism what Ninety Eighty-Four did for socialism and Brave New World did for eugenics."
– Ken MacLeod, Prometheus and BSFA Award-winning author of The Corporation Wars series

"The Offset is spare, elegant, and thought-provoking as the best classic science fiction. Calder Szewczak is a name to watch."
– Daniel Abraham, co-author of The Expanse

"The Offset was a dark and fascinating read – a twisted reversal of The Handmaid's Tale set in a ravaged dystopia, simmering with menace and tension. Bleak, haunting and intriguing."
– Jennifer Saint, Sunday Times bestselling author of Ariadne

"The Offset crushed me. This is an expertly – and starkly – written, well-drawn eco-dystopian novel about the ultimate measure of austerity taken in order to save the planet. There's so much that was done well here: the world, the science, the societal conflict – but to get into the (possibly carnivorous) weeds would distract from soul of this book. It is a bare-knuckle punch to the heart. Calder Szewczak made me suffer – brilliantly."
– Chris Panatier, author of The Phlebotomist

"The Offset is a prophetic, urgent, gripping read that throws into question what saving the world really means. A tender warning of a book, lest our efforts become as futile as our tragedies."
– Natalia Theodoridou, World Fantasy Award Winner and Nebula Finalist

"Calder Szewczak's The Offset may be a literary first in giving central place to anti-natalism – the view that one ought not to create new people. Other novels, like this one, have depicted a dystopian future in the wake of environmental catastrophe. In Margaret Attwood's Handmaid's Tale, the dystopia is pro-natalist. The Offset shows how anti-natalism could also take a dystopian turn. In showing this, it provides a cautionary tale – which, if read correctly, is not that anti-natalism itself is in error, but rather that even views aimed at reducing suffering can increase it if fanatics seize control."
– David Benatar, World-leading anti-natalist and author of Better Never to Have Been

"A chilling evocation of a possible future."
- Susannah Wise, acclaimed actress and author of This Fragile Earth

"The Offset is a bleak but thoughtful dystopian sci-fi. It asks questions about where we are & where we are going through intricate world building and a compelling story. Very entertaining, compulsive & thought-provoking."
- Kate Sawyer author of The Stranding

"Finished this and now I'm slightly broken. If, like me, every so often you just want a bit of beautiful, brutal dystopia this is the one for you! A complex world filled with complex characters that draw the reader in. This is a beautifully written, brutal piece of dystopian fiction that does not shy away from the issues we must face today."
- Elizabeth Lee, author of Cunning Women
Angry Robot, 9780857669186, 240pp.
Publication Date: September 14, 2021
About the Author
Calder Szewczak is writing duo Natasha C. Calder and Emma Szewczak, who met while studying at Cambridge. Natasha is a graduate of Clarion West 2018 and her work has previously appeared in The Stinging Fly, Lackington's and Curiosities, amongst others. Emma researches contemporary representations of the Holocaust and has published work with T&T Clark and the Paulist Press.