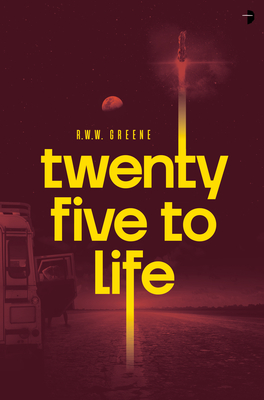 Twenty-Five to Life
Paperback

* Individual store prices may vary.
Other Editions of This Title:
Digital Audiobook (8/23/2021)
Description
Life goes on for the billions left behind after the humanity-saving colony mission to Proxima Centauri leaves Earth orbit ... but what's the point?

Julie Riley is two years too young to get out from under her mother's thumb, and what does it matter? She's over-educated, under-employed, and kept mostly numb by her pharma emplant. Her best friend, who she's mostly been interacting with via virtual reality for the past decade, is part of the colony mission to Proxima Centauri. Plus, the world is coming to an end. So, there's that.

When Julie's mother decides it's time to let go of the family home in a failing suburb and move to the city to be closer to work and her new beau, Julie decides to take matters into her own hands. She runs, illegally, hoping to find and hide with the Volksgeist, a loose-knit culture of tramps, hoboes, senior citizens, artists, and never-do-wells who have elected to ride out the end of the world in their campers and converted vans, constantly on the move over the back roads of America.

File Under: Science Fiction [ #VanLife | Driving Out and Growing Up | No (wo)man left behind | Cube Route ]
Praise For Twenty-Five to Life…
PRAISE FOR TWENTY FIVE TO LIFE

"Greene creates an all too realistic world filled with very real people. A tale of growing up and what it means to be an adult, this is one not to be missed."
- Gerald Brandt, international bestselling author of Threader Origins

"Our collective fear of being left behind, brilliantly captured. Greene nails it!"
- Jason M. Hough, New York Times bestselling author of Instinct

"Following a timeless search for individuality and meaning amid a stark and relatable future, Twenty-Five to Life explores the fine line that separates segments of society living a dystopian reality from those living a post-apocalyptic one. Engaging and memorable."
– Reese Hogan, author of Shrouded Loyalties

"Twenty Five to Life skillfully blends dystopian and post-apocalyptic literature with a moving coming-of-age story. I thoroughly enjoyed not only Greene's well-drawn characters, but the journey of the protagonists across a future America that is at once reimagined, yet recognizable. Sure to connect with anyone who has searched for their purpose in life and a place to belong."
– Ginger Smith, author of The Rush's Edge

"You always get a different angle when it comes to the work of R.W.W. Greene. In a future where a lucky few are able to flee a dying earth, Greene focuses on the people left behind, and among them, those who buck the norm of VR living within pristine cubes. In a world with spaceships, we follow the tramps in the custom van. Twenty-Five to Life is a story of found friendship between the unlikeliest of characters and the rediscovery of humanity in the face of doom."
– Chris Panatier, author of The Phlebotomist

"This book hooked me. Greene's not-too-distant dystopian future really hits home."
– FanFiAddict


PRAISE FOR THE LIGHT YEARS

"The Light Years is one of best novels about the psychological challenges of relativity I've ever read.  This is what science fiction was invented for!"
– James Patrick Kelly, winner of the Hugo, Nebula and Locus awards.

"Love in the time of relativity. Greene paints a picture of the social complexities of the lightspeed era, with realistic characters navigating interstellar intrigue."
– Dan Moren, author of The Bayern Agenda

"Laced with politics, science, history, poetry, music, greed, hope, and a little Johnny Cash, this character-rich space opera has a well-developed and believable plot that kept me reading from the opening line to the surprising and satisfying end."
– Kelly Stone Gamble USA Today best-selling author of They Call Me Crazy

"The Light Years is a thought-provoking debut from a skilled writer."
– E. C. Ambrose, author of The Dark Apostle series.

"The toll difficult moral choices take on families is the core conflict of this clever far-future debut from Greene… Sophisticated worldbuilding and diverse, emotionally-resonant characters make Greene an author to watch."
– Publishers Weekly

"The main characters are distinctive, Greene's dialogue lively and the prose vivid."
– SFX Magazine

"On the surface, you get an engrossing space opera, but if you look deeper you will find explorations of poverty, arranged marriage, and the toll that difficult moral choices take on families."
– Kirkus Reviews
Angry Robot, 9780857669209, 400pp.
Publication Date: August 24, 2021
About the Author
R.W.W. Greene is a New Hampshire USA writer with an MA in Fine Arts, which he exorcises in dive bars and coffee shops. He is a frequent panelist at the Boskone Science Fiction and Fantasy Convention in Boston, and his work has been in Stupefying Stories, Daily Science Fiction, New Myths, and Jersey Devil Press, among others. Greene is a past board member of the New Hampshire Writers' Project. He keeps bees, collects typewriters, and lives with writer/artist spouse Brenda and two cats.