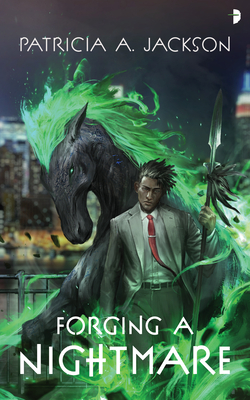 Forging a Nightmare
Paperback

* Individual store prices may vary.
Description
FBI agent Michael Childs is tasked with tracking down a serial killer with an obsession for victims born with twelve fingers and toes. But he discovers something much more startling about himself…

The only link between a series of grisly murders in New York City is that the victims were all born with twelve fingers and twelve toes. These people are known in occult circles as the Nephilim, a forsaken people, descendants of fallen angels.
 
After a break in the case leads to supposedly killed-in-action Marine sniper Anaba Raines, Michael finds the soldier alive and well, but shockingly no longer human. Michael then discovers that he is also a Nephilim, and next on the killer's list.
 
Everything Michael once thought of as myth and magic starts to blur the lines of his reality, forcing him to accept a new fate to save the innocent, or die trying.
Praise For Forging a Nightmare…
"Just about anyone can get published and call themself a writer, but Patty Jackson is that much rarer and finer thing, a true writer, master of her craft.  In Forging a Nightmare she has created a brilliantly plotted, hard-hitting fantasy deeply rooted in the mythos of the human, the divine, the angelic and the equine." 
– Nancy Springer, author of The Enola Holmes Mysteries

"Crafted with skill, featuring an array of unforgettable characters and breath-stealing action, Forging a Nightmare is one hell of a ride. Highly recommended."
– Julie E. Czerneda, award-winning author of The Gossamer Mage

"Jackson modernizes Christian lore in her action-packed debut… urban fantasy fans will be happy to charge through to the end."
– Publishers Weekly

"If you ever wondered what it would be like if Good Omens was mashed up with The Black Stallion, with a dash of Loki, then this is the book for you! "
– BookRiot

"Man's best friend is his Nightmare, provided he proves worthy of the ride, in this thrilling urban-fantasy debut. Jackson opens Hell's stable door and releases fallen angels and demons onto each fast-moving page."
– RWW Greene, author of The Light Years

"Christian, Greek, and Norse mythologies combine to create a stunning depiction of Heaven and Hell in this action-packed novel about an apocalypse angel and a special-ops officer turned warrior horse. You won't want to miss this hell of a ride!"
– Reese Hogan, author of Shrouded Loyalties

"Patricia Jackson's Forging a Nightmare is a deep dive into a world of angels and magic that lies right under the surface of reality. Filled with well-drawn characters that become a part of your heart and a tightly woven plot that is carried through the entire novel, this is one book where the action moves the story at a thrilling pace."
– Ginger Smith, author of The Rush's Edge

"Thrilling, bold, smart, and fun, Forging a Nightmare is a stunning debut novel that kicks ass in all the best and bloody non-angelic ways."
– Dan Hanks, author of Captain Moxley and the Embers of the Empire

"With Forging a Nightmare, Patricia A. Jackson has hammered a fast-paced thriller into New York's newest borough: Hell. Along the way, she cracks open the mythos of fallen angels, fans the flames, and stuffs them into this barn-burner of a story. Forging follows an FBI agent trying to solve a series of occult murders while discovering the truth of his own lineage. Jackson's frenetic action, imaginative storytelling, and unapologetic prose will keep your heart pounding."
– Chris Panatier, author of The Phlebotomist

"Jackson takes readers to hell and back in this urban fantasy-meets-high fantasy action-packed debut... The plot is buoyed by side adventures and backstory snippets that entertain, though they may overwhelm readers as they try and suss out the most relevant parts of the story. Still, this is an intricate world that reimagines and mashes together ancient myths in a refreshing and wholly original way. Readers who relish dynamic, well-written action scenes, wry Avenger-like humor, and biblical folklore will eagerly anticipate a sequel."
- Booklist



"Patricia A Jackson's Forging a Nightmare deftly blends mystery, mysticism and magic into a wonderful, page-turning tale. Agent Michael Childs is a welcome addition to the pantheon of heroes capable of straddling two worlds and meeting all challenges. In Anaba Raines, Patricia A Jackson has created a complex character well suited to the intricate world she's built for Forging a Nightmare. Forging a Nightmare is one hell of a debut, and I look to more adventures from Ms. Jackson's pen."
—Michael A. Stackpole, New York Times Bestselling author of I, JEDI and ROGUE SQUADRON
Angry Robot, 9780857669223, 400pp.
Publication Date: November 23, 2021
About the Author
Patricia A. Jackson is a high-school Language Arts teacher in Pennsylvania. She has published a number of short stories for the WestEnd Games quarterly the Star Wars Adventure Journal. Her hobbies include gaming, grading endless flash fiction from her students, running a D&D club at her school, and competing in equestrian hunter/jumper competitions.