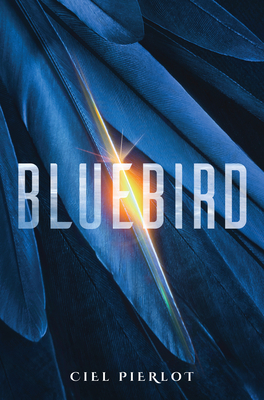 Bluebird
Paperback

* Individual store prices may vary.
Description
Lesbian gunslinger fights spies in space!

Three factions vie for control of the galaxy. Rig, a gunslinging, thieving, rebel with a cause, doesn't give a damn about them and she hasn't looked back since abandoning her faction three years ago. 
 
That is, until her former faction sends her a message: return what she stole from them, or they'll kill her twin sister.
 
Rig embarks on a journey across the galaxy to save her sister – but for once she's not alone. She has help from her network of resistance contacts, her taser-wielding librarian girlfriend, and a mysterious bounty hunter.
 
If Rig fails and her former faction finds what she stole from them, trillions of lives will be lost--including her sister's. But if she succeeds, she might just pull the whole damn faction system down around their ears. Either way, she's going to do it with panache and pizzazz.

File Under: Science Fiction [ Independent Women | Robbing Hood | Keep Your Enemies Close | Guns Don't Kill People ]
Praise For Bluebird…
"Pierlot's novel is an exciting space romp full of suspenseful chases and daring space jumps, action scenes, and rebel groups that lurk behind the scenes… Bluebird is entertaining, with rich world building, and will attract all lovers of queer space stories."
– Booklist

"Read for a lesbian gunslinger fighting spies in space who attracts the best ragamuffins to join her."
– BookRiot

"Bluebird is a stunningly assured debut novel, and a rollicking space adventure with a lot of heart... not to mention panache and pizzazz."
– Tim Pratt, Hugo Award-winning author of The Wrong Stars

"Rebellion, redemption, romance, and cinematic action: Bluebird is an imaginative space opera with a fantastic blend of heart and heroics."
– K. Eason, author of Nightwatch on the Hinterlands

"With the breathless energy of an old fashioned swashbuckler, Bluebird will leave you blue in the face."
– Patrick S. Tomlinson, author of The Children of a Dead Earth series

"Ambitious worldbuilding, spycraft, and the aforementioned gunslinging promises a space romp that's both thrilling and thoughtful."
– Lit Hub
Angry Robot, 9780857669667, 444pp.
Publication Date: February 8, 2022
About the Author
Ciel Pierlot is a disaster bisexual from the San Francisco Bay Area. She's also a giant nerd and no, you cannot stop her from bragging about her lightsaber collection. When she's not writing SFF novels, she's busy being a digital artist and a hardcore gaymer.