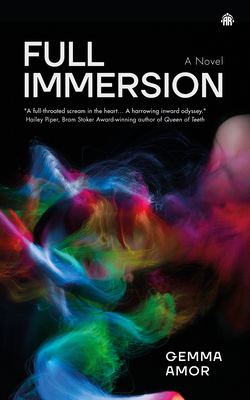 Full Immersion
Paperback

* Individual store prices may vary.
Other Editions of This Title:
Paperback (1/10/2023)
Description
A traumatised woman with amnesia finds her own dead body and sets out to uncover the truth of her demise in a race against time, sanity, crumbling realities and the ever-present threat of the Silhouette. 
---

What can you do when you're reeling from trauma but you've tried it all? Counselling, yoga, pills, meditation, art, healthy living… none of it makes a dent. What's left?


Magpie is out of ideas. She's desperate enough to try anything. Just when she thinks her life can get no worse, she discovers herself, or rather her own dead body, partially buried in the mudbank of a river. A man stands by, a familiar stranger. What does he want? And why can't she remember getting here? Why can't she remember anything?


Unbeknownst to her, two pairs of eyes watch from behind an observation screen, in a room filled with computers and sensors. An experiment is unfolding, but is Magpie the subject, or practitioner? Reality becomes a slippery concept. And beyond the glass is something worse still: a hint of an outline, shaped in darkness…


Magpie realises all too soon that her journey has transformed from healing to survival. She must become the hunter rather than the hunted, with her missing memories the prey.


In turn brutal, beautiful and absolutely terrifying, Full Immersion is the latest speculative horror from Bram Stoker Award-nominated author, Gemma Amor

File Under: Horror Fantasy [ Silhouette | Suspension | Bristol | Motherhood ]
 
**Content Warnings** suicidal ideation​​; post-natal depression; implied acts of violence towards a child; birth scene
Praise For Full Immersion…
"Full Immersion is fiercely thought-provoking endeavour."
– LoveReading

"Amor writes passionately and convincingly about Magpie's pain. The result is a bleak but powerful portrait of survival at any cost."
– Publishers Weekly

"The narrative that follows walks a line between futuristic thriller, with its full-body virtual reality and potential technical dangers, and a dark fairy tale… Overall, a powerful and challenging work."
– Booklist

"A brave, timely and important book."
– Gareth L. Powell, author of Stars and Bones

"Gemma Amor has taken on a considerable challenge here... and she's succeeded."
– SFX Magazine

"Astonishing and totally unique, Gemma Amor writes so fearlessly that it feels as if she were baring her soul in Full Immersion. An intricately crafted and superbly rendered vision of horror-fantasy from one of the genre's most brilliant and devastating voices."
– Eric LaRocca, author of Things Have Gotten Worse Since We Last Spoke

"A banger of a story… it is raw, full of emotion, and incredibly honest… This a novel that will stay with you. Recommended."
– SFF World

"A deep dive into the horrors of depression, Full Immersion takes readers on a harrowing journey into the character of Magpie, a woman grappling with a horrifying history she can barely remember, now lost within herself. There, a host of terrors play out in unexpected, gruesome ways. Told through duelling POVs, Ms. Amor's writing is tense and sharp, reminiscent of Kealan Patrick Burke, Jeanette Winterson and Charlotte Perkins Gilman. Fans of both psychological and body horror will find much to enjoy here!"
– D.K. Stone, author of Fall Of Night

"Powered by dread from the very beginning, Full Immersion is a full-throated scream in the heart. Gemma Amor wields an ever-tightening emotional vice, constantly questioning and challenging the malevolent unreality we accept as our lives. A harrowing inward odyssey."
– Hailey Piper, author of Queen of Teeth

"Raw, personal, confrontational, and timely, Gemma Amor bares her soul in full for a book that will rock you to your core. Charting a metaphysical landscape of pain and real suffering, Full Immersion is nothing less than a klaxon call confirming one of the most daring and fearless voices in contemporary fiction."
– Kealan Patrick Burke, Bram Stoker Award-winning author of Kin and Sour Candy

"With Full Immersion, Gemma Amor offers you an incredible journey into the dangers and possibilities of the human mind. It's shocking and unnerving and heartbreaking and, ultimately, hopeful in a way that makes you want to jump for joy. It will reawaken you to the possibilities – and depths – of our souls."
– Nick Kolakowski, author of Absolute Unit and Boise Longpig Hunting Club

"Gemma Amor's raw, dreamlike novel, Full Immersion, crept under my skin in the most delicious way. A modern-day fairy tale where the princess must save herself, this book will unnerve you and break your heart. An important, timely story."
– Meagan Jennett, author of You Know Her

"All of Gemma's work is vivid and visceral, but Full Immersion will invade every space of your heart and mind. The hurt is terrifying as it jumps off the page to create haunting images of catastrophic proportions. If you are not a Gemma fan already then you will be after this one. I felt every word."
– V. Castro, Bram Stoker Award nominated author of Goddess of Filth
 
"The body horror is visceral, and the virtual reality component will cause readers to constantly question what's real. Readers of Amor's latest are in for a creepy, unsettling narrative, with strong shades of Sarah Pinborough. Recommend to those who enjoy films like Inception and Memento."
– Anita Siraki, Library Journal


PRAISE FOR GEMMA AMOR
"The bravest book you'll read all year. Harrowing, yes, but necessarily so. As empowering as it is powerful. Not only does the book benefit a crucial cause, the stories are extraordinary, written by more than a dozen paramount voices in horror. Sometimes a book illuminates as it entertains; We Are Wolves is that rare find."
– Josh Malerman, New York Times best selling author of Bird Box and Malorie, on We Are Wolves

"It pulls no punches, asks for no quarter, and will leave you breathless. I loved it."
– Brian Keene, best-selling author and World Horror Grandmaster Award-winner, on We Are Wolves

"Gemma delivers! She has the ability to make your heart race."
– Scream Magazine, on Cruel Works of Nature
Angry Robot, 9780857669810, 352pp.
Publication Date: September 13, 2022
About the Author
GEMMA AMOR is a Bram Stoker Award nominated author, illustrator and voice actor. Her happy place is horror, speculative and dark fiction, or anything that blurs the boundaries of genre with a focus on human stories. Many of her works have been adapted into audio dramas by the popular NoSleep Podcast. She is also the co-creator, writer and voice actor for horror-comedy podcast Calling Darkness. She is also an audiobook narrator and painter. She lives in Bristol, England.