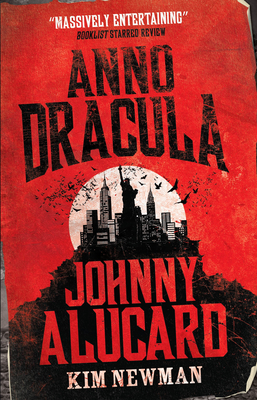 Anno Dracula
Johnny Alucard
Hardcover

* Individual store prices may vary.
Other Editions of This Title:
Mass Market (8/28/2018)
Description
DRACULA COMES TO NEW YORK: Kim Newman returns to one of the great bestselling vampire tales of the modern era. Considered alongside I Am Legend and Interview with theVampire as one of the stand-out vampire stories of the last century - this brand-new novel is the first in over a decade from the remarkable and influential Anno Dracula series.

Newman's dark and impish tale begins with a single question: What if Dracula had survived his encounters with Bram Stoker's Dr. John Seward and enslaved Victorian England?

Fallen from grace and driven from the British Empire in previous instalments, Dracula seems long gone. A relic of the past. Yet, when vampire boy Johnny Alucard descends upon America, stalking the streets of New York and Hollywood, haunting the lives of the rich and famous, from Sid and Nancy to Andy Warhol, Orson Welles, and Francis Ford Coppola, sinking his fangs ever deeper into the zeitgeist of 1980s America, it seems the past might not be dead after all.
Praise For Anno Dracula: Johnny Alucard…
"Anno Dracula: Johnny Alucard is a rollicking ride through the pop culture of 1976-1991, as Kim Newman cleverly twists and turns the events of those fifteen years to fit his vampiric narrative." - Criminal Element 

"I highly suggest picking up this book. 9/10" - Horror News Network

"A dream come true for long-time fans of the Anno Dracula series" - Open Letters Monthly 

"This is yet another must read book from an accomplished author, don't let it pass you by." - Pop Cults 

"Recommended for literate horror fans who wants something cleverer than the latest True Blood or Twilight book. Great fun and definitely recommended." - SciFi Movie Page

"I entered a world which totally engulfed me." - Horror-Movies.ca 

"A rollicking ride through the pop culture of 1976-1991, as Kim Newman cleverly twists and turns the events of those fifteen years to fit his vampiric narrative." - Criminal Element

"This book will delight fans of the series and bring in new fans as well, it's a fun and easy read put together beautifully by Titan Books." - City of Films 

"The sheer imagination, dark humor and masterful use of  vampire lore makes Johnny Alucard another triumph for Newman and should make the book top-of-shelf  for vampire lovers everywhere." - The Vampire Source Review

"An interesting and relevant vampire story. Newman's nuanced portrayal of vampires is incredibly refreshing." - Paper Droids 

"Both gripping and horrific… and also slightly hilarious." - Comic Book Resources

"Newman has crafted a remarkably entertaining story and found a way to breathe new life in the tired old vampire tropes. I particularly love the final scene, which I found to be rather beautiful and a perfect way to end this story. This book is one I highly recommend looking up, whether or not you're a fan of Nosferatu." - Horror Talk

"This book was addicting, fun, intelligent, and exciting." - Nerd Span

" Tough and tender, funny and frightening, intellectual and poppy, Johnny Alucard is one vampire book that's likely to put many others in its black and red-cloaked shade." - Adventures in SciFi Publishing


"I would recommend Johnny Alucard for both it's historical and entertainment value" - Atomic Moo

"Newman is having a blast." - Den of Geek 

"stands above the rest of most of the vampire literature out on the shelves right now and for recent years." - Aint It Cool 

"The sheer quality of Kim Newman's writing remains unchanged" - One Metal 
Titan Books, 9780857680860, 400pp.
Publication Date: September 17, 2013
About the Author
Kim Newman is the critically acclaimed author of the Anno Dracula series. He has won the Bram Stoker, International Horror Guild, British Fantasy and British Science Fiction Awards and been nominated for the Hugo and World Fantasy Awards.
or
Not Currently Available for Direct Purchase