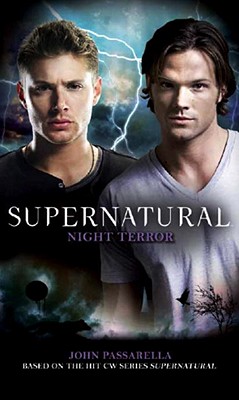 Supernatural
Night Terror
Mass Market

* Individual store prices may vary.
Description
Alerted to strange happenings in Clayton Falls, Colorado, Bobby sends the boys to check it out. A speeding car with no driver, a homeless man pursued by a massive Gila monster, a little boy chased by uprooted trees — it all sounds like the stuff of nightmares. The boys fight to survive a series of terrifying nighttimes, realizing that sometimes the nightmares don't go away — even when you're awake...

A Supernatural novel that reveals a previously unseen adventure for the Winchester brothers, from the hit TV series!
Titan Books, 9780857681010, 384pp.
Publication Date: September 13, 2011
About the Author
John Passarella is a horror and supernatural author. The co-authored Wither was his first novel., and it won the Bram Stoker Award for Superior Achievement in a First Novel and Columbia Pictures purchased film rights. He has written two sequels to Wither, plus several Buffy and Angel tie-ins.