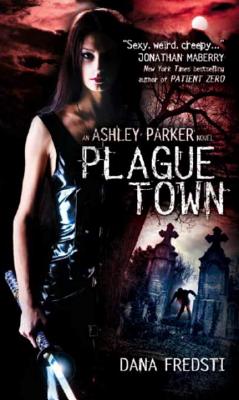 Plague Town (Mass Market)
An Ashley Parker Novel
Titan Books, 9780857686350, 368pp.
Publication Date: April 3, 2012
* Individual store prices may vary.
Description
Ashley was just trying to get through a tough day when the world turned upside down. 

A terrifying virus appears, quickly becoming a pandemic that leaves its victims, not dead, but far worse. Attacked by zombies, Ashley discovers that she is a 'Wild-Card' -- immune to the virus -- and she is recruited to fight back and try to control the outbreak. 

It's Buffy meets the Walking Dead in a rapid-fire zombie adventure!
About the Author
Dana Fredsti is the US-based author of Murder for Hire: The Peruvian Pigeon. She has also appeared in various zombie/horror movies projects, and worked on Sam Raimi's Army of Darkness as an armourer's assistant, sword-fighting captain, and sword-fighting Deadite.
Praise For Plague Town: An Ashley Parker Novel…
"I would say that if you're down with delicious zombie gore (poor choice of words, I know), romance, and a lot of really thrilling adventure, definitely check out Fredsti's Plague Town series. It's the best zombie story I've encountered yet! Plus, the recently released conclusion Plague World had me reeling from the twists and one heart-wrenching finale!" - MuggleNet

"Read it – I zombie dare you. Fun, fast, read." - Affairs Magazine

"More action than season two of The Walking Dead." - Horror Talk

"Chock-full of gore and zombie romance... a fresh spin on an otherwise tired genre." - Daily Grindhouse

"If you want to read an alternative reality version of Buffy where she battles zombies using samurai swords, then this delivers in spades. It's funny, it's revoltingly gory in just the right way and I'll be picking up the sequel when it rolls around." - House of Geekery

"If you like butt-kicking heroines with a fair dose of snark and humor, then you're going to love Ashley." - Geek Mom

"An instantly gratifying, blazing fast read and that speaks to its cinematic, fast paced approach to storytelling." - Ravenous Monster

"If you're a female fan of the zombie genre, get this book. If you're a male, get this book." - We Zombie

"A diverting, entertaining zombie siege novel – complete with all the delicious, bone-crunching, blood-gushing awesomeness a zombie lover could ever want." - Book Smugglers

"If you love zombies, strong, sarcastic heroines with heart, and fight scenes that will knock your socks off, you'll devour Plague Town!" - My Bookish Ways

"Delightfully gruesome." - Nerds in Babeland

"If you enjoy zombies or are a supernatural-lover but have found yourself tired of the watered down vampire genre, check out Plague Town." - Icon vs Icon

"Plague Town is a fast-paced read which will satiate any zombiephile's appetite.  It has been described as Buffy the Vampire Slayer meets zombies, which is definitely accurate, although does not do nearly enough service to the book's skillful delivery of action, humor, gore and romance." - Starpulse

"[A] fun, fast-paced read." - Fantasy Matters

"A well written thrill ride that took me by surprise. Highly Recommended." - Reading & Writing Urban Fantasy

"Not only is the prose good, but it's seasoned with a dash of steamy romance and an excellent sense of originality and pacing... it survives the zombie apocalypse in style." - Misprinted Pages

"Reminiscent of the fourth season of Buffy the Vampire Slayer..." - Evil Dead News

"You love zombies? You loved Buffy the Vampire Slayer? Your one true wish and secret desire is that someone would come along and mash the two together in an exquisitely violent yet equally hilarious fashion? Stop searching friends, Dana Fredsti's Plague Town, the first novel in a planned trilogy, has delivered the goods." - Opinionless
or
Not Currently Available for Direct Purchase