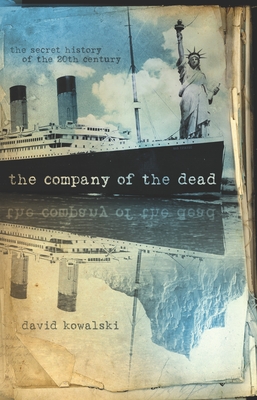 The Company of the Dead (Paperback)
Titan Books (UK), 9780857686664, 752pp.
Publication Date: March 13, 2012
* Individual store prices may vary.
or
Not Currently Available for Direct Purchase
Description
Can one man save the Titanic?
March 1912. A mysterious man appears aboard the Titanic on its doomed voyage. His mission? To save the ship.
The result? A world where the United States never entered World War I, thus launching the secret history of the 20th Century. April 2012. Joseph Kennedy - grand-nephew of John F. Kennedy - lives in an America occupied in the East by Greater Germany and on the West Coast by Imperial Japan. He is one of six people who can restore history to its rightful order -- even though it may mean his own death. "A magnificent alternate history, set against the backdrop of one of the the greatest maritime disasters."
Library Journal
"Imaginative, monolithic, action-packed... The reader will not be disappointed." --
Bookseller and Publisher
"Time travel, airships, the Titanic, Roswell ... Kowalski builds a decidedly original creature that blends military science fiction, conspiracy theory, alternate history, and even a dash of romance."
Publishers Weekly
"Kowalski effortlessly smashes together high art and grand adventure in this alt-history juggernaut." John Birmingham, acclaimed author of
Weapons of Choice
"Exciting action, twisty and ingenious characterisation, and complicated time-travel plotting, deftly handled." S.M. Stirling, NYT bestselling author of
The Tears of the Sun
"A non-stop chase that takes place across two thousand miles ... and one hundred years of perdurant time." Walter Jon Williams, NYT bestselling author of
Deep State
About the Author
David Kowalski is an obstetrician and gynecologist living in Sydney, Australia. Although he has written for many professional journals, The Company of the Dead is his first work of fiction and the winner of the Aurealis Award for Best Novel and Best Science Fiction Novel.
Praise For The Company of the Dead…
"A magnificent alternate history, set against the backdrop of one of the greatest maritime disasters."  — Library Journal

"Time travel, airships, the Titanic, Roswell: from these well-worn bones, Kowalski builds a decidedly original creature that blends military science fiction, conspiracy theory, alternate history, and even a dash of romance."  — Publishers Weekly

"An excessively exciting reading experience." - Tor.com

"***** A clever mix of sci-fi thriller, epic alternate history tale and intelligent spy adventure." - Sci-Fi Now

"David Kowalski's alternative Earth is lovingly crafted, inhabited by plausible characters all its own." - SFX

"A book that fans of science fiction/alternate history almost owe themselves to read." - Fandom Post

"Up there in the top echelon of time travel fiction." - The Daily Rotation

"If you are a history buff, if you're interested in the story and fact behind the Titanic, enjoy alternate realities or just a darn good sci-fi novel, then The Company of the Dead will absolutely blow you out of the water. You'll wish that you could go back in time and read it again and again." - 8 Days A Geek

"[The Company of the Dead] combines conspiracies, time travel, science fiction, and historical drama into an exciting, action-packed adventure that you'll have a hard time pulling yourself away from." - Forces of Geek

"The writing is tense, confident and pacy while the story itself is involving and very much action packed with descriptive verse and a real depth...complete with a powerful ending, recommended." - SF Book Reviews

"A virtuoso performance, a near-perfect blend of speculative fiction and adventure story>" - Open Letters Monthly

"Exciting action, twisty and ingenious characterization, and complicated time-travel plotting deftly handled" — S.M. Stirling, New York Times bestselling author of The Tears of the Sun

"This vivid sci-fi-military-thriller packs a lot of punch." - Geeks of Doom

"An excellent piece of alternate history/Sci-Fi literature. As a lifelong history buff I was totally engaged and often found myself marveling at how wonderfully Kowalski had woven together his historical tapestry." - Famous Monsters 

"Think an alternate history Indiana Jones-style adventure wedded
to a complicated time story." - Sci Fi Movie Page 
Advertisement