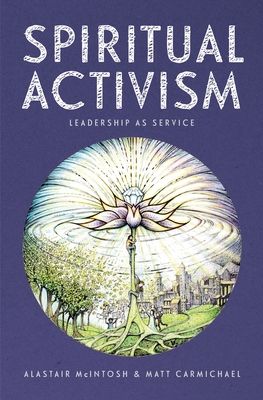 Spiritual Activism (Hardcover)
Leadership as Service
UIT Cambridge Ltd., 9780857843005, 224pp.
Publication Date: October 15, 2015
* Individual store prices may vary.
Description
Provides a clear look at spiritual activism and the ways it can help us to be better activists, better leaders, and more comfortable with our own spirituality

Over the past half century, our understanding and awareness of spirituality has changed in nature, as have the issues facing activists. Spirituality is rising up the agenda for activists because it offers distinct, tried and tested approaches to deep questions such as Where did it all go wrong? What does it mean to be human? What is the place of leadership? What is the nature of power? This book starts from scratch, defining spirituality for a generation sometimes dazzled by the claims of materialism. Where others attempt to distinguish science and religion, Spiritual Activism instead contrasts spirituality and materialism. The text is peppered with tales from the authors' activist experience and includes case studies of inspirational spiritual activists that demonstrate the transformative power of spiritual principles in action.
About the Author
Alastair McIntosh is a Scottish writer, scholar, broadcaster, and activist on social, environmental, and spiritual issues. He is a fellow of the Centre for Human Ecology, an honorary fellow in the School of Divinity at Edinburgh University, and an honorary senior research fellow in the College of Social Sciences at Glasgow University. He has written numerous books, including Hell and High Water: Climate Change, Hope and the Human Condition; Radical Human Ecology; and Soil and Soul: People versus Corporate Power. Matt Carmichael is a climate activist, English teacher, and writer. He was a founder board member of Schumacher North, a forum devoted to exploring and promoting the ideas of deep ecology, sustainable development, and social transformation, and is the creator of the Delta Course, an intensive course on spirituality for groups of people from any or no religious background.
Praise For Spiritual Activism: Leadership as Service…
"This book itself is a spiritual journey, with a grounding in psychology, history and theology. It helps us to explore how we can bring our deepest values into action at this crucial time for the world!" —Starhawk, author, The Spiral Dance and The Empowerment Manual
"The word brilliant is overused, but it genuinely applies to Spiritual Activism. No other book brings together social change theory with insights from psychology and spirituality like this book does." —Brian D. McLaren, speaker; activist; author, We Make the Road by Walking
"With its clarion call that spirituality is central to activism, this is truly a book for our age, challenging the preconceptions of most activists, let alone those who still see spirituality solely as 'an inner journey." —Sir Jonathan Porritt, first chair of UK government's Sustainable Development Commission; former director, Friends of the Earth
"This is a refreshing and heartening book. It inspires positive action with a rich and skilful integration of spiritual philosophies, psychology and case studies of great activists." —Katrina Shields, author, In the Tiger's Mouth
"Can we somehow manage to act both rightly and effectively? McIntosh and Carmichael have carefully studied the obstacles that have always made this look so hard. Their careful, sober reasoning and their case studies, reveal a map that leads the right way." —Dr. Mary Midgely, philosopher
"For any of us who find that the spiritual moment flows from the practical, that prayer (or song, or silence) refreshes on the knife-edge of activism, this book will be an invaluable resource and inspiration. It addresses questions of power, leadership and accountability with honesty, insight and wisdom, and speaks with humanity and humour on the importance of community in human development." —Rev. Kathy Galloway, first woman leader, the Iona Community
"Ever since the first Gulf War in 1991, Alastair McIntosh has stood in solidarity with our community to strengthen interfaith relationships. I warmly welcome the recognition in Spiritual Activism that true Islam can contribute to human rights, justice and peace for all in today's world." —Dr. Bashir Maan, first elected Muslim politician in the UK; former president, Glasgow Central Mosque
"Nuclear disarmament, as this thoughtful book suggests, is more than a matter of dismantling the weapons. We must also dismantle our minds and hearts to change our current ideas of true security." —Bruce Kent, Vice President, Campaign for Nuclear Disarmament
"We've tried to heal what ails us and our world with smartness, money, technology, economic growth, policy, and politics--all necessary and all insufficient. Having tried everything else, it is now time to add spirit exercised with discipline, going to the heart of the matter where wholeness, healing, and Holy converge. Highly recommended." —David W. Orr, professor, Oberlin College; author, Down to the Wire
"To my fellow activists, even the most sceptical, I insist read this excellent book and learn some vital lessons from the most successful and longest lasting social movements in history." —George Marshall, founder, Climate Outreach Information Network