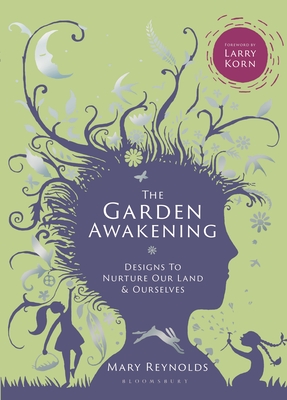 The Garden Awakening (Hardcover)
Designs to Nurture Our Land and Ourselves
UIT Cambridge Ltd., 9780857843135, 272pp.
Publication Date: October 1, 2016
* Individual store prices may vary.
Description
An award-winning garden designer's unique union of a practical how-to book with stories and philosophy

The Garden Awakening is a step-by-step manual to creating a garden in harmony with the life force in the earth, addressing not only what the people in charge of the land want but also asking what the land wants to become. Mary Reynolds demonstrates how to create a groundbreaking garden that is not simply a solitary space but an expanding, living, interconnected ecosystem. Drawing on old Irish ways and methods of working with the land, this beautiful book is both art and inspiration for any garden lover seeking to create a positive, natural space.
About the Author
Mary Reynolds is an award-winning garden designer who won the gold medal for garden design at Chelsea Flower Show. She writes and broadcasts about garden design, and designs gardens that embrace the wild beauty of nature.
Praise For The Garden Awakening: Designs to Nurture Our Land and Ourselves…
"Mary Reynolds here gives charming and practical expression to the wild, free and joyful voice which beckons us all . . . The Garden Awakening reminds us that the natural but hidden connections between soil and soul are at once familiar, comfortable and sovereign." —Peter Bane, permaculture activist, author and designer
"A remarkable, inspirational and admirable woman has written a book that should be essential reading for everyone interested in the real meaning of wellbeing in its widest sense and . . . I'd start with Ministers of Agriculture, Health and Education across the world." —Sir Tim Smit, Executive Vice-Chairman and co-founder, Eden Project
"Mary Reynolds is not really a garden designer: at least not in the same way that the rest of us are garden designers. She is a custodian of the earth, a creature of the forest and, above all, a creative spirit whose work is so deeply anchored to the earth that her gardens are always a partnership rather than an imposition. In this book she explains her philosophy, her life and her dreams. You need to listen to her voice as what she says makes perfect sense." —James Alexander-Sinclair, RHS judge and council member; chairman, RHS Gardens Committee; garden designer; writer; speaker; television presenter
"Throughout Europe, the ebullient Reynolds is famous for upending the gardening establishment with her subversive designs. A biopic based on her life, Dare to Be Wild, won an audience prize at the Dublin International Film Festival last year. Her new book, The Garden Awakening, sold out on Amazon UK the day of its release . . . . When she began designing gardens two decades ago, she was willing to create nearly anything a client wanted . . . .  Then one night in 2001, she dreamed she was a crow flying over an ancient forest. When she woke up, the message seemed clear: 'I shouldn't be making any more pretty gardens.' After that, Reynolds focused on evoking mystical Irish landscapes." —Smithsonian
"[F]or the last few weeks I've been anticipating— even eagerly so — the arrival of a new gardening book. Now I say gardening book, I am sure some PR guru will call it a gardening bible — and certain it is a hymn sheet we gardeners should be singing from. The book is Mary's philosophy on gardening or more to the point it's about how, as gardeners, we become not just custodians of nature but masters of our soul. It's called The Garden Awakening – Designs to Nurture Our Land and Ourselves (Green Books). It's in all good bookstores now and the usual online sources. I would say go buy it and support a great garden designer but it's not even that – its more go buy it and support yourself." —Fiann Ó Nuallain, Irish Examiner
"Reynolds delivers solid information with a touch of fairy spirit that will come across as charming even to those who don't lean toward the mystical." —Sarah White, Foreword Reviews
"If anything, the reading is so captivating, it may interfere with putting the hours into the garden itself . . . The Garden Awakening offers layouts for gardens that reflect alliances we can forge with wildness that result in a self-managing ecosystem." —Carolyn J. Kelly, The Manhattan Mercury