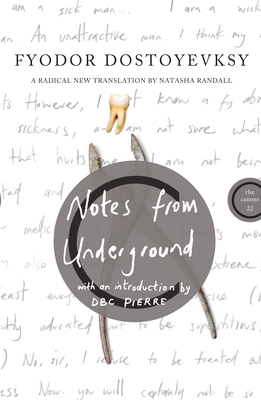 Notes from Underground (Paperback)
Canongate Books, 9780857860217, 152pp.
Publication Date: October 25, 2012
Description
I am a sick person. I am a spiteful person. An unattractive person, too . . .
In the depths of a cellar in St. Petersburg, a civil servant spews forth a passionate and furious note on the ills of society. The underground man's manifesto reveals his erratic, self-contradictory and even sadistic nature. Yet in Dostoyevsky's most radical and disturbing character, there is the uncomfortable flicker of recognition of the human condition.
When the narrator ventures above ground, he attends a dinner with a group of old school friends. It is here, paralysed by his own social awkwardness, that he carries out extraordinary acts and cements his status as a true and original outsider.
About the Author
Fyodor Mikhailovich Dostoyevsky was born in Moscow in 1821. He has written many works of fiction including Crime and Punishment, The Idiot and The Brothers Karamazov. He died in St. Petersburg on 9th February 1881.Natasha Randall has worked as a translator from the Russian for many years in New York, Moscow and St. Petersburg. She has translated a number of the Russian greats including Mikhail Lermontov. Her writing has appeared in A Public Space, the Los Angeles Times Book Review, The Moscow Times, BookForum, The New York Times, HALI magazine, The Strad magazine, The St. Petersburg Times (FL), and on National Public Radio. She also wrote a column on books and publishing for Publishing News (UK) from 2002 to 2007. She writes articles on the topics of literature, Islamic art, Russian culture and music.
Advertisement