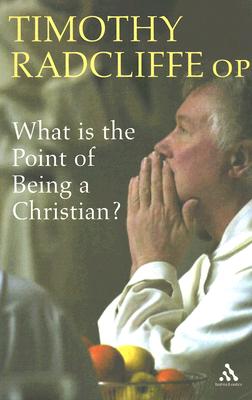 What Is the Point of Being a Christian? (Paperback)
Burns & Oates, 9780860123699, 218pp.
Publication Date: December 20, 2005
Description
"What is the Point of Being a Christian?" has been awarded the prestigious Michael Ramsey prize for the best in theological writing. For more information please visit: www.michaelramseyprize.org.uk

What is the Point of being a Christian? One is pointed to God, who is the point of everything. If one thinks of religion as just 'useful' then one has reduced it to another consumer product. But if we are pointed to God, then this should make a difference to how we live. This is not a moral superiority. Christians are usually no better than anyone else. But the lives of Christians should be marked by some form of hope, freedom, happiness and courage. If they are not then why should anyone believe a word they say? In this new book, Timothy Radcliffe is at his best, writing with a prophetic edge. His argument for Christian belief is profoundly Catholic and profoundly human. But what is just as remarkable, Radcliffe's argument for and interpretation of Christian Gospel is couched in a deep understanding of human nature and the problems and anxieties of modern men and women. Radcliffe is far distant from the theologian's ivory tower and yet his understanding of the Gospel is profoundly theological. The frame of reference for this book is wide, and it is based amongst other things on Fr Radcliffe's pastoral experience of dealing with people with problematic marriages, those struggling with celibacy, those trying to understand the nature of religious authority and those trying to remain loyal to the Church which finds their sexual orientation 'irregular'.
About the Author
Timothy Radcliffe was Master of The Dominican Order. He is the winner of the 2007 Michael Ramsey prize for theological writing for his book What is the Point of Being a Christian? He was the author of The Archbishop of Canterbury's 2009 Lent Book Why Go to Church? He lives in Oxford but spends much of his year giving retreats, lectures and conference key-note addresses in the UK and overseas.
Advertisement