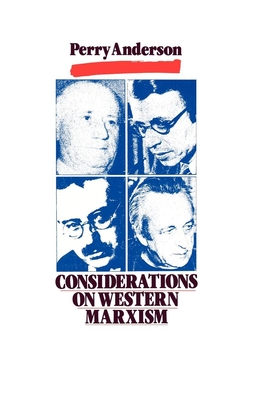 Considerations on Western Marxism (Paperback)
Verso, 9780860917205, 140pp.
Publication Date: September 16, 1976
* Individual store prices may vary.
Description
This synoptic essay considers the nature and evolution of the Marxist theory that developed in Western Europe, after the defeat of the proletarian rebellions in the West and the isolation of the Russian Revolution in the East in the early 1920s. It focuses particularly on the work of Lukács, Korsch and Gramsci; Adorno, Marcuse and Benjamin; Sartre and Althusser; and Della Volpe and Colletti, together with other figures within Western Marxism from 1920 to 1975. The theoretical production of each of these thinkers is related simultaneously to the practical fate of working-class struggles and to the cultural mutations of bourgeois thought in their time. The philosophical antecedents of the various school within this tradition—Lukácsian, Gramscian, Frankfurt, Sartrean, Althusserian and Della Volpean—are compared, and the specific innovations of their respective systems surveyed. The structural unity of 'Western Marxism', beyond the diversity of its individual thinkers, is then assessed, in a balance-sheet that contrasts its heritage with the tradition of 'classical' Marxism that preceded it, and with the commanding problems which will confront any historical materialism to succeed it.
About the Author
Perry Anderson is the author of, among other books, Spectrum, Lineages of the Absolutist State, Passages from Antiquity to Feudalism, Considerations on Western Marxism, English Questions, The Origins of Postmodernity, and The New Old World. He teaches history at UCLA and is on the editorial board of New Left Review.
Praise For Considerations on Western Marxism…
"A splendid essay in intellectual history … an elegant and acute, brilliantly laconic and deeply-felt survey."
—Eric Hobsbawm, New Statesman

"By far the best intellectual history of European Marxism."
—New Society

"Profoundly original and innovating … a general interpretation of the great currents of Marxist thought."
—Le Monde

"By far the best guide to modern Marxism."
—Economist

"Essential reading … Its style is a rare literary pleasure."
—Time Out

"Shares intellectual power and control, mastery of material and range of vision, suppleness of judgment and elegance of compression."
—Times Educational Supplement

"A fascinating social history of Western Marxism."
—The Insurgent Sociologist

"Iridescent, nuanced and compact."
—Tribune