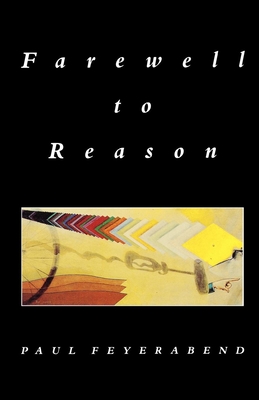 Farewell to Reason
Paperback

* Individual store prices may vary.
Description
Farewell to Reason offers a vigorous challenge to the scientific rationalism that underlies Western ideals of "progress" and "development," whose damaging social and ecological consequences are now widely recognized. 

For all their variety in theme and occasion, the essays in this book share a consistent philosophical purpose. Whether discussing Greek art and thought, vindicating the church's battle with Galileo, exploring the development of quantum physics or exposing the dogmatism of Karl Popper, Feyerabend defends a relativist and historicist notion of the sciences. The appeal to reason, he insists, is empty, and must be replaced by a notion of science that subordinates it to the needs of citizens and communities.

Provocative, polemical and rigorously argued, Farewell to Reason will infuriate Feyerabend's critics and delight his many admirers.
Praise For Farewell to Reason…
"An audacious thinker, a brilliant polemicist, an iconoclast."—Publishers Weekly

"This is a lovely book. Feyerabend's prose is sparkling and his writing is deeply learned."—New Statesman
Verso, 9780860918967, 336pp.
Publication Date: January 17, 1988
About the Author
Paul Feyerabend was Professor of Philosophy at UC Berkeley, and Professor of the Philosophy of Science at the Federal Institute of Technology at Zurich. He died in 1994. His books include Philosophical Papers, Farewell to Reason, and Against Method.