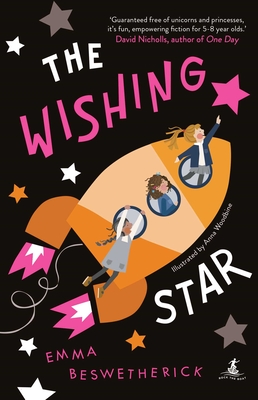 The Wishing Star
Playdate Adventures (The Playdate Adventures)
Paperback

* Individual store prices may vary.
Other Editions of This Title:
Hardcover (10/13/2020)
Paperback (10/12/2021)
Description
"Guaranteed free of unicorns and princesses, it's fun, empowering fiction for 5-8 year olds." David Nicholls, author of One Day

"Every young girl should read this series!" Amanda Holden

"I loved the meaning of this book—we should all do more to save our world." Florence, age 7



Join best friends Katy, Cassie, and Zia on a series of amazing adventures as they work together to save the planet…

Katy, Cassie, and Zia find themselves transported into outer space when their rocket made out of junk magically becomes life-sized. With the help of Katy's cat Thunder, the girls navigate their way to the Wishing Star.

But as they prepare to make their wishes, the friends see the destruction happening back home and realise they have a greater mission: TO SAVE PLANET EARTH.
Praise For The Wishing Star: Playdate Adventures (The Playdate Adventures)…
"Guaranteed free of unicorns and princesses, it's fun, empowering fiction for 5-8 year olds."
— David Nicholls, author of One Day

"Every young girl should read this series!"
— Amanda Holden

"An empowering, magical read that I would recommend to many children."
— The Herald, Scotland

"This is a lively, contemporary, and engaging new series for newly confident readers with positive themes of empowering girls to have adventures, supportive friendship, imagination, and care for the environment, all presented in an accessible style with appealing illustrations."
— Books for Keeps

"As a primary school headteacher and dad to two young girls, I have often been frustrated at some of the stereotypical books aimed at girls who are developing a love of reading. The Wishing Star is exactly what I was looking for; an adventure story of strong girls working together, with a powerful environmental message, too. My daughters love it and were very excited when they found out that it's the first in a series. I can not recommend this book enough to girls developing a love of reading at the start of KS2 [ages 7-8]."
— Nick Styles, Headteacher

"The characters within it are captivating, kind at heart and fun to follow. The reader instantly wants to be friends with them and join one of their daring adventures. With more books like this, this series will be a big success and succeed in giving a new generation the thrills that my favourite books gave me."
— Sunday National, Glasgow

"I loved this book and got really angry every time my mum asked me to put it down. It was an amazing adventure and I especially like the cat, Thunder. I love how it teaches you a lesson because we need to save our planet and that is a good way of spreading the word. I can't wait to read The North Pole Picnic!"
— Lottie, aged 8

"An excellent story for children looking to move onto chapter books. I love how the strong, adventurous girls work together as a team and the clear message that it is everyone's responsibility to protect the environment. My daughters loved it and I would definitely get the set for my Year 2 class."
— Felicity Salcedo, Year 2 teacher

"I thoroughly enjoyed reading The Wishing Star with my daughters (7 and 5) and the story drew us right in from the start. Since finishing it, we've been having lots of conversations about how we can help to look after our planet. The children have even started to turn the tap off when they brush their teeth!"
— Rachel Logan, Mother of two girls

"So refreshing to see girls having big adventures – and ones that don't include dolls and playing house. Of course these three friends can dream – and realise – a trip to the stars! That's exactly what girls can do."
— Lennie Goodings, publisher of Virago
Rock the Boat, 9780861541041, 112pp.
Publication Date: March 9, 2021
About the Author
Emma Beswetherick is the mother of young children and wanted to write exciting, inspirational and enabling adventure stories to share with her daughter. Emma is a publisher with Little, Brown and lives in London with her family and two ragdoll cats, one of whom was the inspiration for Thunder.