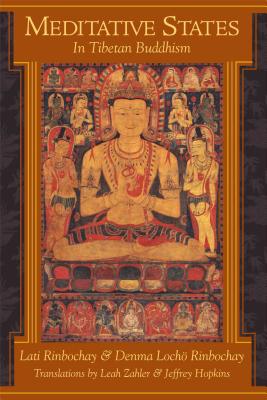 Meditative States in Tibetan Buddhism (Paperback)
Wisdom Publications (MA), 9780861711192, 208pp.
Publication Date: June 15, 1983
* Individual store prices may vary.
Description
From two great masters comes a detailed description of meditative practices for developing a mind that is alert, powerful, and capable of gaining great insight. Discussing step-by-step the practice of meditation itself, they provide us with practical antidotes to the various obstacles that may arise in meditation. At the same time, they intersperse their presentations with captivating descriptions of the sometimes fantastic and astonishing cosmology that provides the background and context for Buddhist practice.
About the Author
Born in the Kham region of Eastern Tibet in 1922, Lati Rinpoche was identified as the reincarnation of a great practitioner by Gongkar Rinpoche and entered monastic life at the age of ten. At the age of fifteen, he enrolled in Ganden Shartse Norling College and in 1959, he attained the rank of Geshe Lharampa. In 1960, Lati Rinpoche joined the tantric college in Lhasa and started intensive study in tantra. In 1964, Lati Rinpoche left Tibet to join the His Holiness the Dalai Lama in exile. On arrival in Dharamsala, he was appointed as a spiritual advisor to His Holiness. From 1976, Lati Rinpoche taught at Namgyal Monastery in Dharamsala, and in the same year, he was appointed abbot of the Ganden Shartse Norling College in exile. The author of several books published in Engilsh, he taught frequently to international audiences worldwide. He passed away in 2010. Locho Rinpoche is one of the few living reincarnate lamas who was educated in Tibet. He is an expert on Yamataka and many other teachings and practices. Born in the Kham region of Tibet in 1928 and recognized at age six as the reincarnation of a famous lama from the local Selkar Monastery, at age eleven Locho Rinpoche entered Drepung Loseling Monastic College outside Lhasa, obtained his geshe degree at age twenty-five, and then attended Gyume Tantric College. In 1959 he fled to India, living in Sarnath for two years and then two years on a research fellowship at Calcutta University before becoming principal of the Buddhist School of Dialectics in Ladakh for six years. In 1967 he become abbot of a small monastery in Manali before moving to Dharamsala, where he now resides. He served as abbot of the Dalai Lama's Namgyal Monastery from 1986 to 1991 and has visited the U.S. on several previous occasions, including one year teaching at the University of Virginia. Leah Zahler, poet and scholar, graduated from Smith College and received a PhD in Buddhist studies from the University of Virginia in 1994. The author or editor of four books on Tibetan Buddhist meditation, she passed away in 1998. Jeffrey Hopkins is Professor Emeritus of Tibetan Buddhist Studies at the University of Virginia, where he taught Tibetan Studies and Tibetan language for more than thirty years. He received a BA magna cum laude from Harvard University in 1963, trained for five years at the Lamaist Buddhist Monastery of America (now the Tibetan Buddhist Learning Center) in New Jersey, and received a PhD in Buddhist Studies from the University of Wisconsin-Madison in 1973. From 1979 to 1989 he served as His Holiness the Dalai Lama's chief interpreter into English on lecture tours in the U.S., Canada, Southeast Asia, Great Britain, and Switzerland. He has published more than twenty-five books, including Meditation on Emptiness, a seminal work of English language scholarship on Tibetan Madhyamaka thought, as well as translations of works by Tsongkhapa, Dolpopa, and His Holiness the Fourteenth Dalai Lama. At the University of Virginia he founded programs in Buddhist Studies and Tibetan Studies and served as Director of the Center for South Asian Studies for twelve years.
or
Not Currently Available for Direct Purchase