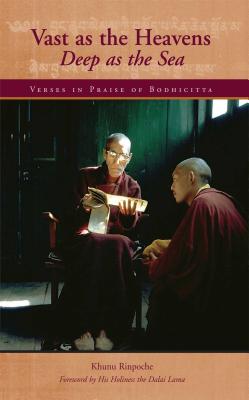 Vast as the Heavens, Deep as the Sea
Verses in Praise of Bodhicitta
Paperback

* Individual store prices may vary.
Description
Revered by many--especially His Holiness the Dalai Lama--as the very embodiment of altruism, the late Khunu Rinpoche Tenzin Gyaltsen devoted his life to the development of bodhicitta--the aspiration to achieve enlightenment for the sake of all sentient beings. Presented in both English and the original Tibetan, this modern classic is a collection of Khunu Rinpoche's inspirational verse.
Wisdom Publications, 9780861711468, 160pp.
Publication Date: February 1, 1999
About the Author
The monk Khunu Rinpoche (1894-1977) was born in Kinnaur, India, and educated in Tibet. A lifelong student and teacher, he taught, among others, the current Dalai Lama and other Tibetans who were exiled from their homeland in the 1950s.

Tenzin Gyatso, the Fourteenth Dalai Lama, is the spiritual leader of the Tibetan people. Born in northeastern Tibet in 1935, he was as a toddler recognized as the incarnation of the Thirteenth Dalai Lama and brought to Tibet's capital, Lhasa. In 1950, Mao Zedong's Communist forces made their first incursions into eastern Tibet, shortly after which the young Dalai Lama assumed the political leadership of his country. In 1959, Chinese forces occupied the city, forcing His Holiness to escape to India. There he set up the Tibetan government-in-exile in Dharamsala, working to secure the welfare of the more than 100,000 Tibetan exiles and prevent the destruction of Tibetan culture. In his capacity as a spiritual and political leader, he has traveled to more than sixty-two countries on six continents and met with presidents, popes, and leading scientists to foster dialogue and create a better world. In recognition of his tireless work for the nonviolent liberation of Tibet, the Dalai Lama was awarded the Nobel Peace Prize in 1989. In 2012, he relinquished political authority in his exile government and turned it over to democratically elected representatives. He is the author of numerous books, including The Good Heart, The Meaning of Life, The World of Tibetan Buddhism, and The Compassionate Life.