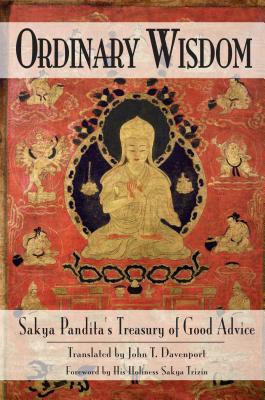 Ordinary Wisdom (Paperback)
Sakya Pandita's Treasury of Good Advice
Wisdom Publications, 9780861711611, 364pp.
Publication Date: June 15, 2000
* Individual store prices may vary.
Description
A popular guide to the art of living, the Sakya Legshe--or "Treasury of Good Advice"--has been fundamental to the development of Tibetan culture and character. As in Aesop's Fables, Sakya Pandita uses proverbs and stories to address the basic question: "How are we to live peaceably with ourselves and with others?" This is the only available English translation of the Sakya Legshe--a book that reveals the heart of the Buddhist way of life.
About the Author
Sakya Pandita Kunga Gyaltsen (1182-1251) was a renowned scholar and Tibetan statesman who staved off a Mongolian invasion by converting Emperor Godan Khan to Buddhism. A luminary of the Sakya school of Tibetan Buddhism, his peerless erudition stands out even among a tradition known for its scholastic adepts, and many of his works have been bedrock texts for study and practice since the thirteenth century. John Davenport is a water resources development specialist with wide experience as an aid consultant in South and East Asia and Tibet, including for the Tibetan government-in-exile. He is currently the team leader of the ADB supported Western Basins Water Resources Management Project in Herat, Afghanistan. He has served as vice president of Deer Park Buddhist Center near Madison, Wisconsin. He lives in Eugene, Oregon. His Holiness Sakya Trizin is the revered forty-first throne holder of the Sakya school of Tibetan Buddhism, which dates back to 1073. He is a member of the Khon family, who have been important teachers of Buddhism in Tibet since the eighth century. A brilliant master, he manifests profound wisdom and compassion, and his command of English renders his teachings particularly beneficial to students in the West. He was born in 1945 in Sakya, Tibet, and in 1959 escaped with tens of thousands of Tibetan people to India, where he continues to live and work tirelessly to rebuild the Sakya tradition. He has guided the establishment of over thirty monasteries in India and Nepal and has helped found Sakya centers around the world. His seat in North America is Tsechen Kunchab Ling in Walden, New York.