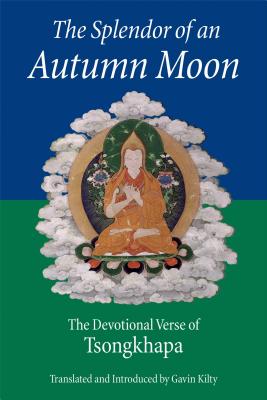 The Splendor of an Autumn Moon
The Devotional Verse of Tsongkhapa
Paperback

* Individual store prices may vary.
Description
The Tibetan saint Tsongkhapa (1357-1419), the founder of the Dalai Lama's tradition of Tibetan Buddhism, was renowned for his vast learning, meditational achievements, influential writings on practice and philosophy, and reform of tantric religious practices. A deeply humble and religious man, he expressed himself in exquisite verse.

Here, presented in both the original Tibetan and in English translation, are twenty-one devotional poems by Tsongkhapa. Each verse--dedicated to the Buddha, bodhisattvas, and lamas--illuminates some aspect of the Buddhist path. Gavin Kilty's commentary places each prayer into context, and his careful, artful translations will appeal to anyone with a love of poetry.
Praise For The Splendor of an Autumn Moon: The Devotional Verse of Tsongkhapa…
"These songs are the verbal counterpart to thangka-painting. Gavin Kilty should be thanked for his translations."
— Andrew Schelling, Naropa University

"Making poetry out of sutra-like materials is a hugely daunting undertaking. Gavin Kilty has done a monumental job of getting these poems into their present highly readable state."
— Mike O'Connor

"Some of the most inspiring verses ever written."
— Geshe Thupten Jinpa, PhD, founder, Institute for Tibetan Classics
Wisdom Publications, 9780861711925, 224pp.
Publication Date: June 15, 2001
About the Author
Tsongkhapa Losang Dragpa (1357-1419) is arguably the finest scholar-practitioner produced by the Buddhism of Tibet. Renowned for both his written works and his meditative accomplishments, he founded the Gelug school, which produced the lineage of the Dalai Lamas.

Gavin Kilty has been a full-time translator for the Institute of Tibetan Classics since 2001. Before that he lived in Dharamsala, India, for fourteen years, where he spent eight years training in the traditional Geluk monastic curriculum through the medium of class and debate at the Institute of Buddhist Dialectics. He also teaches Tibetan language courses in India, Nepal, and elsewhere, and is a translation reviewer for the organization 84000, Translating the Words of the Buddha.