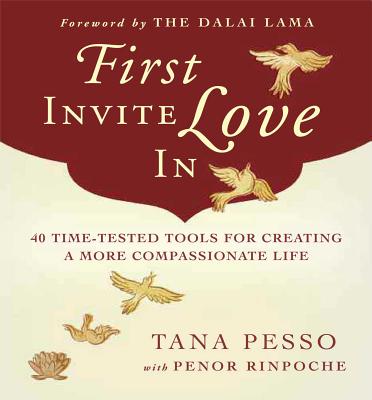 First Invite Love In (Paperback)
40 Time-Tested Tools for Creating a More Compassionate Life
Wisdom Publications, 9780861712854, 256pp.
Publication Date: March 16, 2010
* Individual store prices may vary.
Description
A Spirituality & Practice "Best Spiritual Books of 2010" winner.

First Invite Love In is a beautiful collection of exercises inspired by the ancient meditative arts of Tibetan Buddhism. Tana Pesso and the Penor Rinpoche work together to create a guidebook for anyone who would like to live more compassionately, wisely, and with an open and inviting heart.

Moment by moment, thought by thought, step by step we can transform our minds through time-tested compassion practices, and ultimately create a garden of delight out of any life history or current circumstance, regardless of how traumatic or difficult. There are countless examples of people from all spiritual paths, faiths, and religions who have experienced terrible hardships or even themselves created hardships and suffering for others, who have turned their minds towards love and compassion and found peace and happiness.
About the Author
Tana Pesso holds an undergraduate degree from Harvard College and a master's degree in public policy from Harvard's Kennedy School of Government. She lives in Rockport, Massachusetts.

Penor Rinpoche was the head of the Nyingma school of Tibetan Buddhism. Born in 1932 in Eastern Tibet he was renowned by all as an exemplary master of the Tibetan tradition. He tirelessly taught devoted students around the world. He passed away in 2009.

Tenzin Gyatso, the Fourteenth Dalai Lama, is the spiritual leader of the Tibetan people. Born in northeastern Tibet in 1935, he was as a toddler recognized as the incarnation of the Thirteenth Dalai Lama and brought to Tibet's capital, Lhasa. In 1950, Mao Zedong's Communist forces made their first incursions into eastern Tibet, shortly after which the young Dalai Lama assumed the political leadership of his country. In 1959, Chinese forces occupied the city, forcing His Holiness to escape to India. There he set up the Tibetan government-in-exile in Dharamsala, working to secure the welfare of the more than 100,000 Tibetan exiles and prevent the destruction of Tibetan culture. In his capacity as a spiritual and political leader, he has traveled to more than sixty-two countries on six continents and met with presidents, popes, and leading scientists to foster dialogue and create a better world. In recognition of his tireless work for the nonviolent liberation of Tibet, the Dalai Lama was awarded the Nobel Peace Prize in 1989. In 2012, he relinquished political authority in his exile government and turned it over to democratically elected representatives. He is the author of numerous books, including The Good Heart, The Meaning of Life, The World of Tibetan Buddhism, and The Compassionate Life.
Praise For First Invite Love In: 40 Time-Tested Tools for Creating a More Compassionate Life…
"Penor Rinpoche, was the head of the Nyingma school of Tibetan Buddhism and with the able assistance of Harvard graduate Tana Pesso, his precious techniques can now reach a wide audience. Anyone with aspirations to be more kind, to cause less harm, and to create less suffering will find the right tools in this wise book. Forty building blocks to be erected one at a time in a logical sequence, like an athlete training for the Olympics. Each step asks that you first and foremost 'invite love in.' Only then can you later 'send love out' and, finally, 'seal with a vow and rejoice.' This very practical book is an excellent how-to guide to connecting to a renewable resource of compassionate energy."
— Mandala

"First Invite Love In is a clear, practical handbook that will genuinely help anyone who reads it and follows its exercises. It is an especially important guide at a time when so many lack confidence about how to go beyond fear and uncertainty."
— Sharon Salzberg, co-founder of Insight Meditation and author of Faith and Lovingkindness

"The short exercises presented here will benefit anyone who is able to practice them."
— Sakyong Mipham Rinpoche, holder of the Shambhala Buddhist Lineage and author of Turning the Mind into an Ally

"A marvelous, practical book, unlike anything else out there--the ultimate how-to manual for nurturing kindness and compassion. The authors' enthusiasm for compassion is contagious!"
— Deborah Schoeberlein, author of Mindful Teaching and Teaching Mindfulness

"What this guide offers in return for your effort is a way to live harmoniously, at peace with yourself and also those around you."
— Writing Without Paper
or
Not Currently Available for Direct Purchase